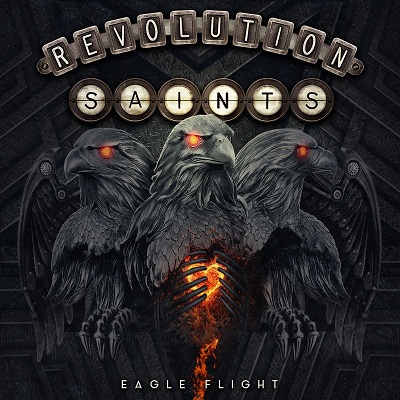 REVOLUTION SAINTS
Titel: EAGLE FLIGHT
Spieldauer: 48:51 Minuten
VÖ: 21. April 2023
Beim US Hardrock Trio REVOLUTION SAINTS hat sich das Personalkarussel vor der Entstehung des neuen Albums "Eagle Flight" gewaltig gedreht. Fix- und Mittelpunkt des musikalisch hochwertigen Treibens ist und bleibt jedoch Sänger und Schlagzeuger Deen Castronovo (Journey, Bad English, Hardline).
Vom vergnüglichen Fahrgeschäft im vergangenen Jahr abgestiegen sind Bassist/Vokalist Jack Blades (Night Ranger) und Gitarrist Doug Aldrich (ex-Whitesnake, Dio). Die beiden gehörten zur Belegschaft, welche mit den ersten drei Scheiben "Revolution Saints", "Light In The Dark" und "Rise" von 2015 bis 2020 die 80er/90er Melodic Rock Fans begeisterte.
Mit Gitarrist Joel Hoekstra, aktuell Mitglied von Whitesnake, Trans-Siberian Orchestra und Iconic sowie mit seinem Soloprojekt Joel Hoekstra's 13 beschäftigt, und Bassist Jeff Pilson, momentan auf dem Lohnzettel von Foreigner, Black Swan und The End Machine und ehemals bei Dokken aktiv, wurde aber adäquater Ersatz gefunden, vielleicht sogar mehr als das.
REVOLUTION SAINTS Legen los für die Feuerwehr und setzen mit dem faszinierenden Titelsong direkt ein musikalisches Statement. Der melodische Hardrock tönt erwachsen, ohne zu langweilen, gekonnt, ohne zu übertreiben und eingängig, ohne sich anzubiedern, aus den Boxen.
Das mitreißende `Kids Will Be Kids´ legt davon ebenso Zeugnis ab, wie die gelungene Vorabauskopplung `Crime Of The Century´, das eingängige `Set Yourself Free´ und ´das intensiv-dramatische `Sacred´.
Der AOR-lastige Lovesong `Need Each Other´ geht zu Herzen, während das intensive `Talking Like Strangers´ emotional von einer verflossenen Beziehnung berichtet.
Fazit: drei gestandene, hochtalentierte Musiker, ein Zehnerpack starker Songs mit Tiefe, Können und Emotion und insbesondere eine gesangliche Glanzleistung des Masterminds – was will man mehr?
Michael Gaspar vergibt 9 von 10 Punkten