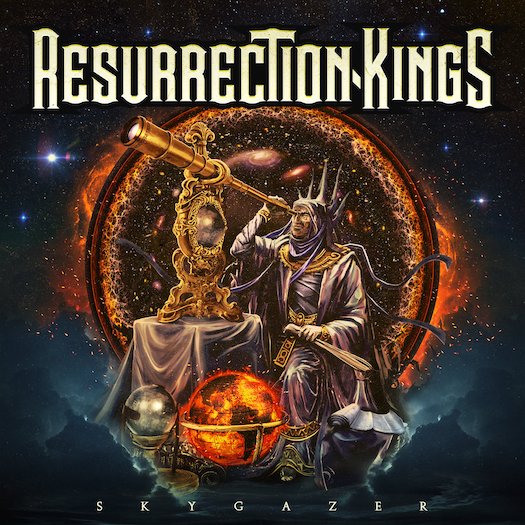 RESURRECTION KINGS
Titel: SKYGAZER
Spieldauer: 46:39 Minuten
Scheinbar war lange Zeit nicht klar, ob dem selbstbetitelten Debüt (2016) eine weitere RESURRECTION KINGS-Scheibe folgen wird. Doch nun haben Sänger Chas West (Ex-Foreigner, -Bonham, Lynch Mob), Gitarrist Craig Goldy (Dio Disciples) und Schlagzeuger Vinny Appice (Ex-Black Sabbath, -Dio, -Heaven and Hell) den Nachfolger "Skygazer" mit Hilfe von Songwriter und Produzent Alessandro Del Vecchio, der auch Teile von Bass und Keyboards übernimmt, fertiggestellt.
Der Sound bewegt sich, wie zu erwarten, an der Grenze von klassischem 80's Hard Rock zu traditionellem, melodischem 80's Metal. Wobei sie leider ein wenig ihre Wurzeln, Einflüsse und gesammelten Ex-Bands wie eine musikalische Monstranz vor sich hertragen und wahlweise nach Dio, Rainbow, Led Zeppelin, Thin Lizzy, Deep Purple, Foreigner, Dokken klingen – sucht Euch was aus!
Der Titelsong und das ebenfalls vorab veröffentlichte 'World's On Fire' sind gute Songs in genau diesem Stil und ein gelungener Einstieg. Jedoch könnten die Refrains etwas zwingender und die Vocals teilweise etwas weniger theatralisch sein. Und wie immer, wenn Workaholic Del Vecchio die Finger im Spiel hat, gibt es an der Produktion und Ausführung aber mal gar nix auszusetzen, aber wie ebenfalls (fast) immer fehlt es mir dann an Eigenständigkeit und Seele.
Wenn ich daher Favoriten bzw. Anspieltipps nennen soll, dann sind dies andere. Ein Highlight ist sicher das unheimliche, fast schleppende 'Angry Demons' und die anschließende Power-Ballade 'Saviour Of Souls' mit ihrem packenden Solo. Darüber hinaus weiß das metallische 'Is This The End' und das mächtige 'Set Me On Fire' mit seinen tiefen Gitarren und dem mehrstimmigen Gesang zu gefallen. Außerdem möchte ich an dieser Stelle die dezenten bis fast proggigen Keyboardsounds ausdrücklich loben. Am durchwachsenen Gesamteindruck ändert dies freilich auch nichts mehr.
Michael Gaspar vergibt 6,5 von 10 Punkten