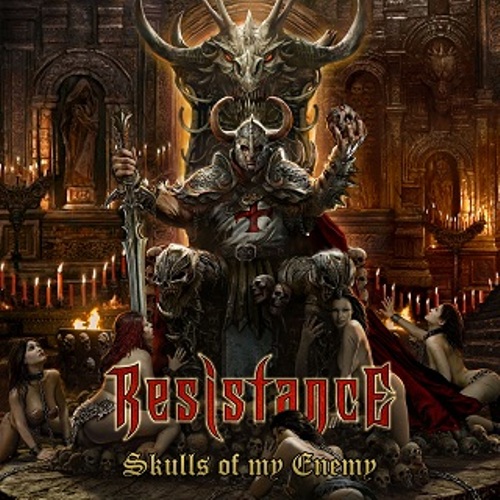 RESISTANCE
Titel: SKULLS OF MY ENEMY
Spieldauer: 40:05 Minuten
VÖ: 22. Juli 2022
RESISTANCE are back!
Fünf Jahre nach ihrem letzten Langeisen "Metal Machine" sind die Jungs aus Glendora, Kalifornien, mit ihrem neuen, mittlerweile vierten, Langeisen "Skulls Of My Enemy"  wieder am Start.
Personell gibt es lediglich eine Veränderung an den Gitarren, aber die Mucke der Jungs ist zum Glück vom Grundsatz her unverändert gebleiben. Hier regiert Power Thrash amerikanischer Prägung; es gibt zu jeder Zeit die nötige Aggressivität im Bereich der Gitarrenfraktion, aber auch jede Menge packender Melodien und hymnischer Momente, wie man sie aus dem klassischen US Metal kennt.
So bereiten Songs wie der an Priest gemahnende Up Tempo Banger 'Valhalla Has Locked Its Doors' mit seinem hymnischen Part, der schnelle Headbanger 'Nordic Witch' und dem treibenden Up Tempo Rocker 'Empires Fall' eine Menge Spass.
Und auch die weiter sechs Tracks – inklusive eines Intros – sind nicht wirklich schlechter.
Da auch sowohl die Produktion als auch das Metal typische Artwork zu überzeugen wissen, gibt es hier eine verdiente gute Benotung für RESISTANCE.
Meiner bescheidenen Meinung nach ist "Skulls Of My Enemy" in der Gesamtheit das bisher beste RESISTANCE Album. H.O.A. und K.I.T. Gänger wissen wovon ich spreche und können getrost zu greifen.
Ludwig Lücker vergibt 8,5 von 10 Punkten