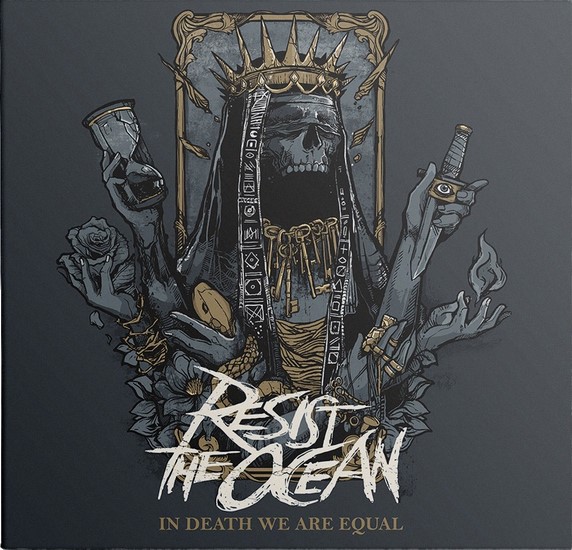 RESIST THE OCEAN
Titel: IN DEATH WE ARE EQUAL
Spieldauer: 40:48 Minuten
RESIST THE OCEAN ist eine im Jahr 2012 gegründete Punk/Metal/Hardcore (Metalcore) Band aus Nürnberg. Auf die im Frühjahr 2014 veröffentlichte, in Eigenproduktion entstandene 8-Track Debüt-EP "Weather The Storm" das Debütalbum "Heart Of The Oak" (2017) folgt nun der neue Studiooutput "In Death We Are Equal".
Das süddeutsche Quintett präsentiert einen modernen, aggressiven, schnellen, typischen Metalcore-Mix aus ungestümen, knallharten Strophen und eingängig-cleanen Refrains. Und die daraus entstehenden Songs wie der mitreißende Titeltrack oder das glänzende `Visions´ können sich allemal hören lassen.
Mindestens zwei weitere Stücke sind eine besondere Erwähnung wert und beide glänzen jeweils mit Unterstützung weiblicher Gesangspower. Beim intensiv-ausdrucksstarken `Umbra´ sorgt Sängerin Lorena Daum (bekannt aus The Voice 2020) für Dynamik, Kontrast und Gänsehaut, während die Hamburgerin Julia Kalass das treibend-mitreißende `Ghosts´ mit Duett-Ohrwurm-Refrain veredelt.
Fazit: solider Metalcore Silberling mit durchweg guten, hörbaren Songs, bei dem beispielsweise im direkten Vergleich mit den Labelkollegen Mata Leao aber ein wenig die Abwechslung, Eigenständigkeit und Besonderheiten fehlen.
Michael Gaspar vergibt 7 von 10 Punkten