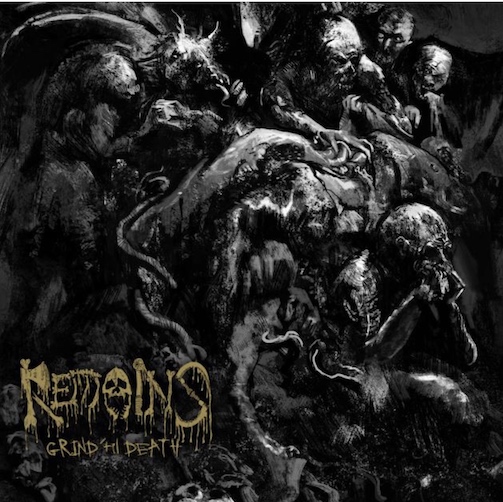 REMAINS
Titel: GRIND ´TIL DEATH
Spieldauer: ca. 35:00 Minuten
VÖ: 15. Juli 2022
Wenn eine Band ihr Album "Grind `Til Death" nennt, weiß man eigentlich sofort was auf einen zukommt. Natürlich auch im Falle der australischen Band REMAINS, die derbe Death Metal Kost, hauptsächlich im Highspeed und Ultrahighspeedbereich bietet. Wobei die (Gitarren-) Sounds aber erstaunlich schwedisch klingen und sogar technische Finessen und eingängige Parts (`Bloodthirst`) Einzug in das grundlegend rabiate Material Einzug halten und es damit von anderen "Death-Grindern" unterscheiden.
Die superaggressiven, recht tiefen und ernsthaft bösen Vocals  passen hervorragend zu den Tracks und erinnern beinahe an Immolation. Das Songmaterial ist trotz aller Gewalt häufig einfach abwechslungsreich und dennoch "straight-in-die-Fresse" . So kommen Songs wie `The Butcher` oder `Like Death` mit klassischen Punkanleihen in das Geballer gegrätscht. Ein Song wie `Intercorpse` drischt dem Hörer die Hirse aus dem Schädel, bevor es zum fetten Banger mutiert und so weiter.
18 Songs (minus Intro) und damit ca. 35 Minutenlang geht das so und das, was die Band selbst: "Extreme stadium grind with epic blasting assaults and windmilling rockin hooks to blow your fucken lids clean off" nennt, will einfach nicht langweilig werden.
Wer sich also bei wirklich groben Death Metal Klängen zuhause fühlt und Blastbeats nichrt verachtet, sollte sich die REMAINS Scheibe dringend mal anhören. Eine Chance dazu habt ihr gleich hier im Full Album Stream.
Sven Bernhardt vergibt 8,5 von 10 Punkten