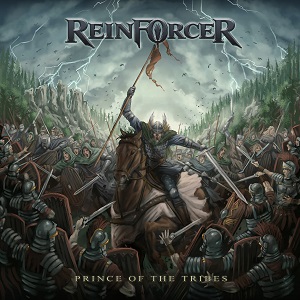 REINFORCER
Titel: PRINCE OF THE TRIBES
Spieldauer: 40:51 Minuten
Fünf Jungs aus Paderborn verschreiben sich einer Kombination aus klassischem Heavy Metal und melodischem Power Metal und veröffentlichen nach der viel beachteten EP "The Wanderer" (2018) nun ihr Full-Length-Debüt "Prince Of The Tribes". Im Vordergrund stehen dabei die epischen Melodieführungen der beiden Lead-Gitarren und der glasklare, kraftvolle und im besten Sinne schlichte Gesang des Frontmanns Logan Lexi. Ansonsten kann man den Sound des Fünfers am besten durch das charakterisieren, was es nicht gibt, nämlich keine Keyboards, kein Heldentenor und keine übertriebenen Soli. Auch üppige Orchestrierungen, klassischen Chöre und ausufernde Frickelei sucht man vergeblich. Geboten wird dagegen geradliniger, schnörkelloser Power Metal mit guten Melodien, knackigen Soli und packenden Refrains.
Obwohl die ersten drei Songs wahrlich nicht schlecht sind, nimmt das Album danach sogar nochmal Fahrt auf und REINFORCER legen uns einen Fünferpack sondergleichen auf den Plattenteller. Der erste Streich hört auf den Namen 'Shieldmaiden' und überzeugt mit genau der erwähnten Kombination aus Melodie, Chorus und Solo und fasziniert mich zudem aufgrund des spannenden Themas der furchtlosen, nordischen Kriegerin. 'Coup De Grâce' ist wahrlich kein Grund, sich den "Gnadenschuss" zu verpassen, höchstens für solche Musiker, die nicht zu solch packenden Metal-Songs mit ultra-eingängigem Chorus fähig sind.
Während ein weiteres Trademark des Fünfers, die Gruppen-Shouts, in 'Black Sails' noch ein wenig verpuffen, kommen diese beim hymnischen 'Thou Shall Burn' voll zur Geltung. Apropos Hymne: auch die folgenden 'Hand On Heart' und das geniale 'Another Night' fallen eindeutig in diese Kategorie und die Refrains sind erneut nicht von dieser Welt. Einzig das abschließende 'Z32' fiel anfangs bei mir durch, hat sich aber mit seinen opulenten Riffs, geheimnisvollen Strophen und dem rhythmischen Chorus mittlerweile sogar zu einem der vielen Highlights entwickelt. Fazit: Fantastisches Debüt einer großen deutschen Power-Metal-Nachwuchs-Hoffnung!
Michael Gaspar vergibt 8 von 10 Punkten