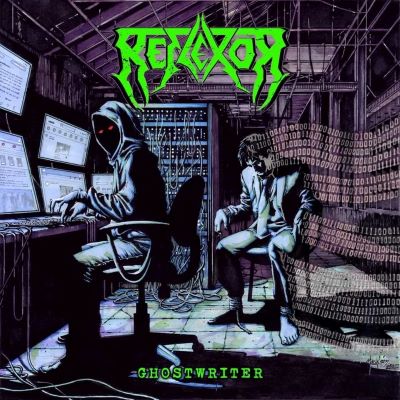 REFLEXOR
Titel: GHOSTWRITER
Spieldauer: 18:06 Minuten
VÖ: 15. Mai 2022
Zehn Jahre nach Veröffentlichung der ersten EP "Revenge Of The Mycosis" und knapp vier Jahre nach der ersten Full-Length "Pyroclastic Extinction" geben die Mittelhessen REFLEXOR wieder ein Lebenszeichen von sich. Grund genug, sich überhaupt mal mit dem bisherigen Wirken des Quintetts zu beschäftigen.
Die ersten Jahre seit der Bandgründung operierte man noch unter dem Namen CRUSH HATRED, ehe man sich 2010 zu REFLEXION umbenannte. Das erste Lebenszeichen gab es 2012 mit einer aus 6 Tracks bestehenden EP. Auch wenn der Sound verständlicherweise etwas rumpelig daherkommt, hatte man damals bereits überzeugendes Material geschaffen. Mit dem Debütalbum hat man fünf der Songs genommen und neu aufgenommen. Natürlich musste ich mir erst einmal "Pyroclastic Extinction" anhören um festzustellen, dass die Jungs damals ein richtig gutes und homogenes Album abgeliefert haben.
Die gute alte Thrash-Schule der 80er und 90er hört man natürlich heraus und fühlt sich gleich an die bekannten Größen des Genres erinnert. Doch die Jahre zwischen dem Debüt und heute sind an der Band nicht spurlos vorübergezogen, denn während "Pyroclastic Extinction" einen melodischen Eindruck mit leichter Kantenglättung vermittelt, rotzen die fünf neuen Songs der EP "Ghostwriter" wesentlich angepisster aus den Boxen. Nicht nur der Gesang ist deutlich rotziger, auch die Arrangements haben deutlich angezogen und für eine fettere Thrash-Note gesorgt.
Robert vergibt 8 von 10 Punkten