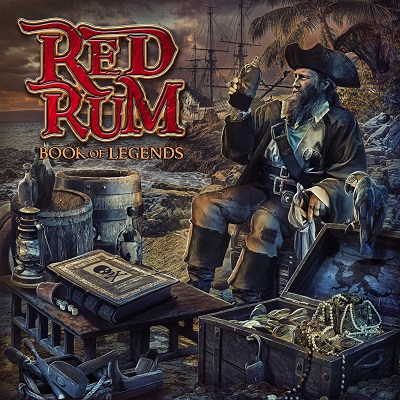 RED RUM
Titel: BOOK OF LEGENDS
Spieldauer: 33:31 Minuten
VÖ: 14. April 2023
Die britischen Piraten Metaller RED RUM kredenzen uns ihr Longplay-Zweitwerk "Book Of Legends", ein Silberling voller gefälliger, melodischer Ohrwürmer über ihr Lieblingsthema: Trinken, Trinkspiele, Bier, Rum, Fusel und die Freibeuterei.
Und man kann sich der Eingängigkeit von Melodien, Refrains und Singalongs sowie dem atemberaubenden Tempo von Sauf- und Seemannsliedern wie `Drunk And Disorderly´, `50 Gallons Of Ale´ und `Drunken Pirates´ nur schwer entziehen, sondern grölt und schunkelt beinahe unmerklich und ob man will oder nicht automatisch mit.
Hinzu kommen eine mitreißende Nummer wie das flotte und immer schneller werdende `Greatest Drink In All The Land´ und Hymnen wie `We Pirate´ oder die teilweise Richtung Power Metal schielende Hymne `Captain´s Command´.
Der Einsatz typischer Instrumente wie diverser Mandolinen, Banjo, Bouzouki, Flöten und Maultommel sowie tonnenweise poppiger Synthies tragen ihr Übriges zum gelungenen ähm Metal-Vergnügen für Fans von Alestorm, Korpiklaani, Turisas, Trollfest und Co. bei.
Solide, enorm eingängige und unterhaltsame Seeräuber Metal Scheibe, für die man jedoch entweder ein extrem hohes metallisches Toleranzniveau, ein ausgesprochenes Faible für das Genre oder mindestens anderthalb Promille Blutalkohol benötigt.
Michael Gaspar vergibt 7 von 10 Punkten