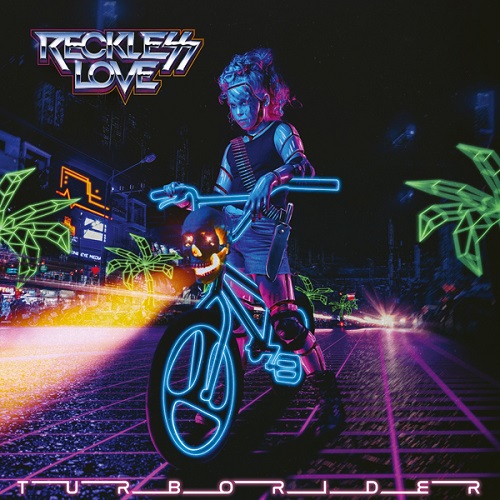 RECKLESS LOVE
Titel: TURBORIDER
Spieldauer: 35:11 Minuten
VÖ: 25. März 2022
Mit "Turborider" wenden die finnischen Sleaze-Rocker RECKLESS LOVE sich ein gutes Stück von ihrem gewohnten Hard/Melodic Rock Sound ab. Hier dominieren 80er-Themen, scheppern Beats aus der Konserve und dröhnt der moderne Synthwave-Einfluss in den Ohren.
Und doch ist ein Teil der eingängigen Tracks auf gewisse Weise unwiderstehlich und die Hooks beinahe durchweg ansteckend. Dermaßen infektiös präsentieren sich beispielsweise der Opener und Titelsong und der Ohrwurm `Outrun`, bei denen es beinahe unmöglich ist, nicht lauthals mitzusingen.
Die Tatsache, dass einige andere der elf neuen Kompositionen sich allerdings doch sehr nah an der Grenze zum seichten, belanglosen Duran Duran/Alphaville-Pop- vs. Boygroup vs. Modern Talking-Gewässer bewegt, macht "Turborider" trotz einiger Highlights zu einem sehr ambivalenten Vergnügen.
Und so kommt es, dass sich in der Trackliste Glanzlichter wie die genannten und die ruhigere Nummer `For The Love Of Good Times` sowie der abschließende Stampfer `Prodigal Sons` neben arg soften Stücken mit haufenweise simplen Beats und Synthie-Glasur wie `Eyes Of A Maniac`, `89' Sparkle` und `Future Lover Boy` wiederfinden.
Das "verpoppte" Ozzy-Cover `Bark At The Moon` muss man an dieser Stelle wohl zur Diskussion freigeben, wird man es doch je nach Rezeption und Standpunkt aberwitzig gelungen, zumindest außergewöhnlich bis gewöhnungsbedürftig (wenn auch recht nah am Original) oder komplett daneben finden.
Unter dem Strich gemeinsam mit der sterilen Produktion ein wenig authentisches 80er-Revival, dass nur partiell und mit viel Toleranz für poppig-gezuckerte Sounds in Teilen Laune macht.
Michael Gaspar vergibt 6,5 von 10 Punkten