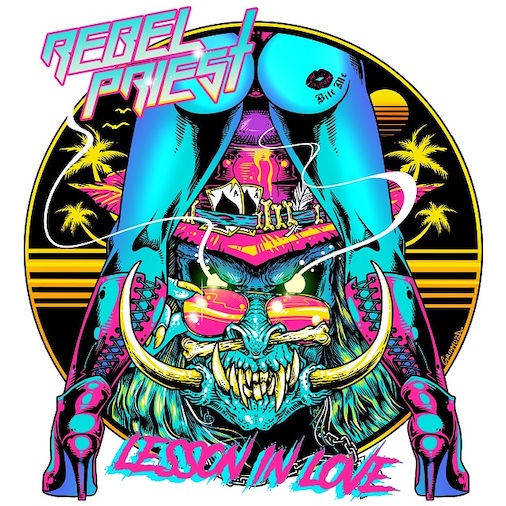 REBEL PRIEST
Titel: LESSON IN LOVE (EP)
Spieldauer: 14:08 Minuten
VÖ: 24. Juni 2022
REBEL PRIEST sind eine "no-nonsense, real-deal rock n´roll band" aus Kanada und verstehen sich selbst zudem als "feel-good and takes no prisoners combo at the same time". Das High Energy Rock Trio hat drei Studio- und ein Livealbum sowie die EP "Lost In Tokyo" (2021) veröffentlicht. Nun folgt mit dem Fourtracker "Lesson In Love" der nächste Output.
Die Gruppe steht für hochenergetischen Rock n´ Roll mit viel Power und Dynamik, bei dem man im besten Fall eine Kanne Bier in mindestens einer Hand hält. Man nehme jede Menge AC/DC, Motörhead und Rose Tattoo, einen Löffel Guns ´n´ Roses, eine Prise ZZ Top und würze mit ein wenig Motley Crüe und schon hat man den unterhaltsamen Sound der Combo aus dem Land des Ahorns trefflich beschrieben.
Der Opener und Titelsong ist ein eher ungewöhnliches, straightes "Liebeslied" und der Soundtrack für den kommenden Sommer. Das folgende `Divebomber´ legt in Sachen Geschwindigkeit noch eine ganze Schüppe drauf und punktet mit Rumpelriff, Punk-Vibes und Mitgröhlrefrain.
`Coatcheck Girl´ ist ein weiterer schneller Partysong und den weiblichen Angestellten in Clubs und Diskotheken gewidmet, welche doch meist die am besten aussehenden Gäste des Etablissements seien, bevor mit `Bonfire´ ein donnernder Track über Bon Scott einen gelungenen, spaßgetränkten, kraftstrotzenden Rotzrock-Kurzplayer würdig abschließt.
Michael Gaspar vergibt 7,5 von 10 Punkten