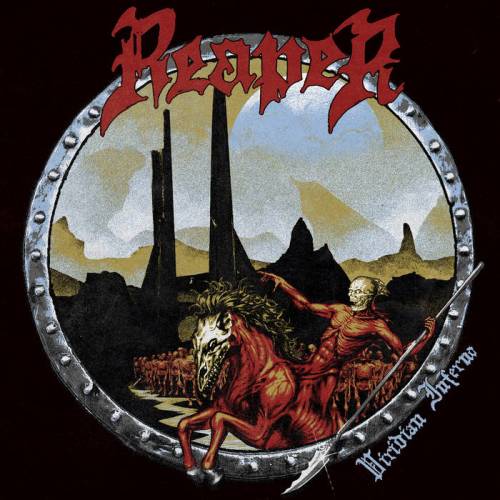 REAPER
Titel: VIRIDIAN INFERNO
Label: DYING VICTIMS PRODUCTION
Spieldauer: 30:34 Minuten
VÖ: 22. April 2022
Bei REAPER merkt man die australische Metal Schule doch recht bald.
Hier gibt es eine wüste Mischung aus Speed und Thrash Metal, der mit angeschwärzten Riffs und ner Portion Hardcore Punk der alten Schule in einen Mixer ordentlich aufgemischt wird.
Auch der rumpelige Sound passt perfekt zum Underground Charme, den die drei Jungs und ein Mädel mit ihrem Patronen Gurt Outfit versprühen und nicht allein deshalb des Öfteren an frühe Destruction erinnern; wahrlich keine schlechte Referenz.
Und wer sich bei Songs wie dem ordentlich geschroteten 'Satanic Panic', dem im groovenden Mid Tempo beginnenden und nach einem Hellhammer Uuuugh abgehenden 'Drop Of The Blade', dem rumpelnden Black Speedster 'Sentinels Of Heresy', dem zwischen schleppenden Parts und Speed wechselnden 'Mass Grave' und dem schnellen Rauswerfer 'Internal Torment' nicht vor Vergnügen eine Büchse Bier aufreisst, dem ist auch nicht mehr zu helfen.
Ludwig Lücker vergibt 8 von 10 Punkten