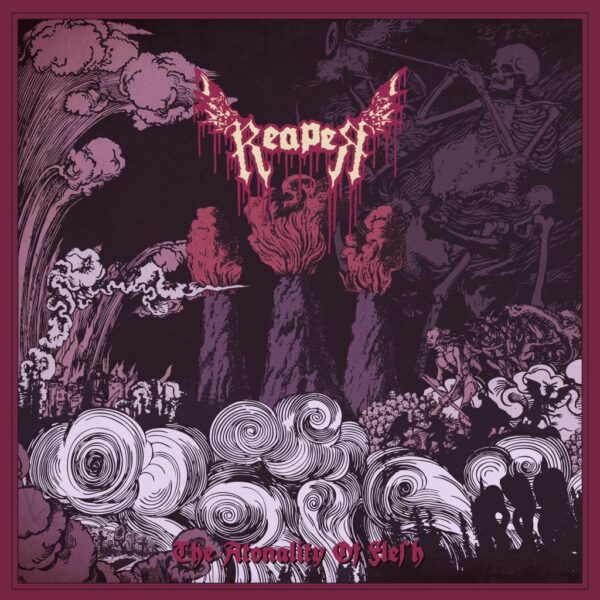 REAPER
Titel: THE ATONALITY OF FLESH
Spieldauer: 37:02 Minuten
Ein düsteres Intro leitet das zweite Album der Schweden REAPER stimmungsvoll ein. REAPER spielen eine Mischung aus Speed und Black Metal. Viel Hintergrund zur Band ist nicht in Erfahrung zu bringen. Offenbar besteht die Band aus zwei Mitgliedern, die sich das Einspielen sämtlicher Instrumente teilen. REAPER hauen ihre dreizehn Tracks in 37 Minuten unters Volk inklusive Intro und Outro.
So direkt bleibt bei mir wenig hängen, auch wenn ich sagen muss, dass es nicht schlecht gemacht ist. "Nightgaunts", ein kurzes Bass-Interlude ist fein, der Rest der Songs peitschen zuweilen recht ordentlich nach vorne. "Architecture of the Flame" ist wohl der schwärzeste und schnellste Track der Platte und weiß zu gefallen. Mit dem Song "Rise Epimetheus" legen REAPER gegen Ende das wohl langsamste aber auch niederträchtigste Stück der Scheibe vor. Im letzten Song "Piss, Bile and Violence" zeigen die Schweden in sechs Minuten nochmal ihr gesamtes Repertoire bevor ein stimmungsvolles Outro die Scheibe schließt.
Alles in Allem liefern REAPER brauchbare Kost. Nichts ist dabei wirklich zwingend, aber mit ein paar Kaltgetränken kann man hier eine recht unterhaltsame Scheibe genießen.
Ingo Holzhäuser vergibt 7 von 10 Punkten