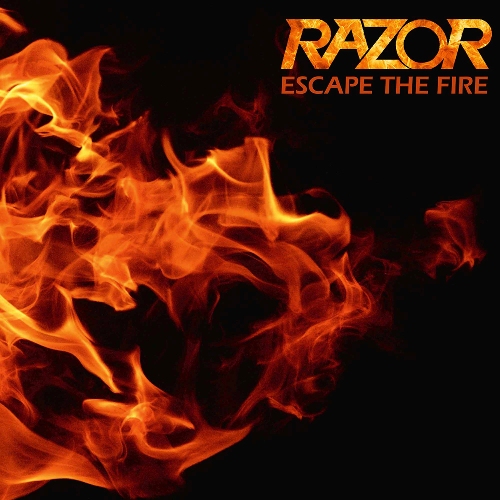 RAZOR
Titel: ESCAPE THE FIRE
Spieldauer: 40:46 Minuten
"Escape The Fire" ist mitnichten irgendein beliebiger Re-Release der kanadischen Thrash Legende RAZOR. Bei dieser Scheibe handelt es sich um das 1984er Demo der Band. Nach der Veröffentlichung der EP "Armed And Dangerous" sollte "Escape The Fire" eigentlich das Nachfolgealbum werden.
Da die Band zwischenzeitlich aber vom damaligen Riesen Attic eingekauft worden war, hatten diese einen anderen Plan mit der Ontario Posse.
Man mischte Tracks von "Escape The Fire" und der erfolgreichen verkaufenden EP und machte daraus ein Album, dass ein absoluter Thrash Knaller war, immer noch ist und RAZOR den weiteren Weg ebnete, nämlich "Executioner's Song".
Das jetzt von High Roller veröffentlichte Album "Escape The Fire" ist die "Originalaufnahme" des Dezember 1984 aufgenommenen und von Terry Morostega und Gitarristen David Carlo produzierten und noch vonStace "Sheepdog" McLaren eingesungenen Werkes, das von Patrick W. Engel gemastered und restauriert worden ist; also nicht mehr ganz so original.
Musikalisch gibt es hier aber nix zu meckern, denn qualitativ sind "Executioner's Song" und "Escape The Fire" auf einem Level – sie bestehen ja auch partiell aus den gleichen Songs -, so dass RAZOR Fans hier einfach zu greifen müssen. Neueinsteiger in das Werk der zusammen mit Exciter und Voivod wichtigsten kanadischen Thrasher können hier ebenfalls unbesorgt zu greifen. So muss Thrash sein!
Ludwig Lücker vergibt keine Bewertung