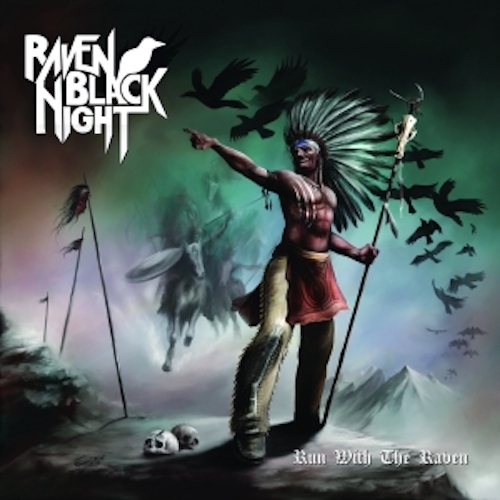 RAVEN BLACK NIGHT
Titel: RUN WITH THE RAVEN
Spieldauer: 49:50 Minuten
Irgendwie sind die vier Australier von RAVEN BLACK NIGHT bisher an mir vorbei gegangen. Möglicherweise mag das daran liegen, dass die Band in den 21 Jahren ihres Bestehens nicht gerade durch eine Flut an Veröffentlichungen auf sich aufmerksam gemacht hat. An der Musik kann es definitiv nicht gelegen haben.
Schon die ersten Töne ihres nunmehr dritten Albums "RUN WITH THE RAVEN" lassen keinen Zweifel daran aufkommen wohin die Reise geht. Hier wird zäh wabernder Doom mit massiver 70er Hardrock-Schlagseite zelebiert. Die (Doom)-Metal Urväter Black Sabbath sind allgegenwärtig und auch Bands wie Uriah Heep oder Deep Purple lassen immer wieder grüßen. Sänger Jim Petkoff fügt sich mit seiner, ein wenig an Ian Gillan erinnernden Stimme, prächtig in das Gesamtbild ein und da man sich auch nicht scheut, das Gaspedal mal etwas mehr durchzutreten, kommt keinerlei Langeweile auf. Mag sein, dass das Ganze wenig innovativ und zum Teil recht kauzig rüberkommt, stimmig und unterhaltsam ist es aber allemal.
Fazit: Die Charts werden die Jungs sicher nicht stürmen, dafür sind sie nicht massenkompatibel genug, aber das lag auch sicher nicht in deren Absicht. Alle Doomster mit Affinität zum Hardrock der seeligen frühen 70er können hier bedenkenlos zuschlagen. Und vielleicht können sie ja sogar, außer mir, noch den einen oder anderen neuen Fan dazugewinnen. Verdient hätte es der Vierer aus Down Under allemal!
Melanie Pank vergibt 8,5 von 10 Punkten