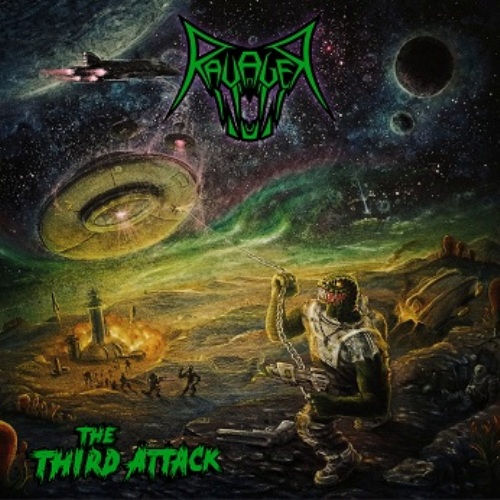 RAVAGER
Titel: THE THIRD ATTACK
Spieldauer: 41:34 Minuten
Die Thrasher aus Walsrode holen mit "The Third Attack" überraschenderweise zu ihrem…..dritten Streich über die lange Distanz aus. Und setzen sowohl musikalisch als auch Cover Artwork technisch die Linie des Vorgängers "Thrashleticts" – geiler Titel für Thrasher übrigens – nahtlos fort.
Fetter Bay Area beeinflusster Thrash ballert hier aus den Boxen, der durch diverse Breaks und Tempivariantionen nie langweilig wird und dabei ordentlich Abwechslung bietet. Die Jungs erinnern mich dabei des Öfteren an alte Sacred Reich, allerdings ohne direkt von diesen ab zu kupfern.
Falls ihr euren privaten Mosh Pit eröffnen möchtet, dann helfen euch Tracks wie das abwechslungsreiche Instrumental 'Intruders', das zwischen Speed und Groove wechselnde 'Planet Hate', der Up Tempo Groover 'Back To The Real World' mit seinem coolen treibenden Part, das im Mid Tempo beginnende und als treibender Thrasher endende 'My Own Worst Enemy' und das abschließende 'Destroyer' – Nomen est Omen – dabei, eure Bude fachgerecht zu zerlegen.
Die Vocals sind zwar etwas eindimensional gehalten, dies sei als leichte Kritik zu erwähnen, sie sind aber glücklicherweise nicht dazu angetan mir den Hörgenuss zu verleiden. So, mal ne neue Inneneinrichtung ordern und nen zweiten Durchlauf starten bevor diese kommt…..
Ludwig Lücker vergibt 8,5 von 10 Punkten