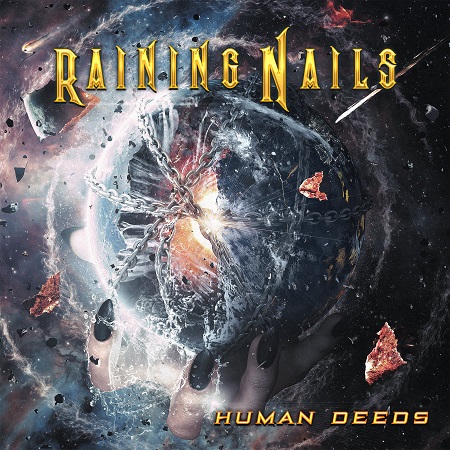 RAINING NAILS
Titel: HUMAN DEEDS
Spieldauer: 44:37 Minuten
VÖ: 27. Oktober 2023
Die jungen italienischen Metaller RAINING NAILS bestehen aus Mitgliedern anderer Power, Prog und Symphonic Metal Band des Landes: Sängerin Marika Vanni (Eternal Silence), Gitarrist Giacomo Paradiso (Oracle Sun), Massimiliano Flak (Sound Storm, Highlord) am Bass, der die gemeinsame Debütscheibe "Human Deeds" auch produziert hat, sowie Drummer Mattia Rubino (Sound Storm, Opening Scenery).
Das Quartett bietet zehn Songs, die sowohl heavy und aggressiv als auch eingängig und melodisch sind. Wuchtige Riffs treffen auf Melodien und die Powerstimme der Frontfrau und es entsteht ein moderner, melodischer Metal-/Rocksound mit Power und Symphonic Metal Einflüssen.
Diese halten sich jedoch dezent im Hintergrund, so dass unter anderem die beiden Vorabsingles, das grandiose `Anthem´ und `Queen Of Thorns´, sowie das treibende `Chained´ zeitgemäßen, kraftstrotzenden Metal mit weiblichen Vocals bieten.
Die Lyrics sprechen die schlimme Situation unserer Welt schonungslos und aufrüttelnd an, halten aber auch einen Hoffnungsschimmer für die Zukunft wach. Alle Texte außer `Anthem´ (von Marika Vanni) und `Close To You´ (von M. Flak) wurden von Ex-Temperance Sängerin Alessia Scoletti verfasst.
Als weitere Anspieltipps seien die Akustik-/Piano-Ballade `Close To You´ und das pulsierende Schlussdoppel aus `Refuge´ und `Rage Of Justice´ mit viel Power und jeweils einem packenden Gitarrensolo empfohlen.
Fans von female fronted Heavy Metal der Marke Battle Beast und Frozen Crown dürfen hier ohne allzu große Flopgefahr gerne mal ein Ohr riskieren.
Michael Gaspar vergibt 7,5 von 10 Punkten