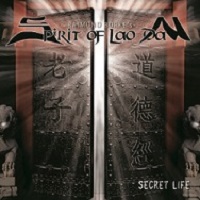 RAIMUND BURKE'S SPIRIT OF LAO DAN
Titel: SECRET LIFE
Label: SELBSTVERTRIEB/CDBABY/TIMEZONE RECORDS
Spieldauer: 64:48 Minuten
Laozi meets Metal! Das ist das Motto von Raimund Burke´s Progressive Metal-Projekt SPIRIT OF LAO DAN und dem Konzept-Album "Secret Life". Die neue Scheibe ist nach unter anderem einer Weihnachts-Platte und einem Glenn Miller-Tribute sein fünfter (Solo-)Longplayer, aber der erste unter diesem Namen, und bietet modernen Prog Metal der eher deftigen und treibenden Art.
Dabei hat die "instrumentale Allzweckwaffe" Burke die elf Tracks im Alleingang eingespielt, aufgenommen und produziert und auch die Gesangsmelodien erstellt. Das Grundgerüst klingt nach "einer Mischung aus Dream Theater, Deep Purple, Michael Schenker, Uli Jon Roth und Yngwie Malmsteen", während eine hochklassige Schar an talentierten Sängern die Vocals übernahm, darunter Rasmus Andersen (Diamond Head), Henning Basse (Firewind, Mayan, Ex-Metalium), Oliver Hartmann (Ex-At Vance) und David Readman (Pink Cream 69). Aber auch eher unbekannte Vokalist wie der Musical-Darsteller Sebastian Zierof (Hinterm Horizont) machen ihre Sache hier sehr gut.
Eine weitere Besonderheit stellen die aus vertonten und ins Englische übersetzten Original-Laozi-Versen bestehenden Lyrics dar. Ebenso die mit traditionellen, chinesischen Instrumenten eingespielten In- und Outros, welche die Songs verbinden. Diese haben darüber hinaus, genau wie einige Piano-Klänge, ebenfalls in diversen Kompositionen Verwendung gefunden. Das Ganze ergibt einen zeitgemäßen Hard-Rock/Prog Metal-Sound mit hochklassigen Gesangs-Performances, virtuosen Instrumentalparts und diesen exotischen Einsprengseln.
Und doch bin ich nicht restlos begeistert, denn ein Großteil der Tracks rauscht doch relativ gleichförmig an mir vorbei. Handwerklich und technisch befinden wir uns hier sicherlich in der Champions League und auch die Liebe zum Detail und der enorme Aufwand sind beeindruckend. Aber irgendwie ist mir das Ganze schon zu perfekt, beinahe "steril" und es fehlt der ein oder andere Track, der mir dauerhaft in Erinnerung bleibt. Zudem empfinde ich die verbindenden Übergänge zwischen den einzelnen Stücken manchmal als störend und den Fluss der Platte unterbrechend.
Anspieltipps: die mit einem Piano-Part eingeleitete Power-Ballade 'The One', das epische und vom bereits erwähnten Sebastian Zierof grandios dargebotene 'Movement of Dao' und das schnelle und doch hymnische 'Mother Of The World' mit einem David Readman in Höchstform.
Jeder Album-Verkauf unterstützt die Hilfsorganisation WCTAG-hilft mit einem Euro. Der gemeinnützige Verein von Burke´s "Laozi-Berater" Jan Silberstorff unterstützt ausgewählte Kinderhilfsprojekte in Sri Lanka, Brasilien und Deutschland.
Michael Gaspar vergibt 7,5 von 10 Punkten