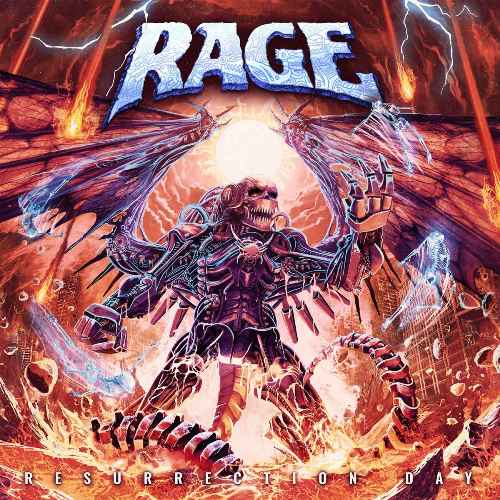 RAGE
Titel: RESURRECTION DAY
Spieldauer: 50:02 Minuten
Ich bin ja bekennender RAGE Fan schon seit ihren Anfangstagen unter dem Avenger Banner, was natürlich auch noch durch die räumliche Nähe meiner Heimatstadt Waltrop zu Herne, der Geburtsstadt von RAGE liegt. Nichtsdestotrotz wurde die Liebe zur Band zwischenzeitlich durch Smolski's Gegniedel doch teils leicht negativ beeinflusst.
Dies ist ja jetzt vorüber und die letzten RAGE Veröffentlichungen "The Devils Strikes Again", "Seasons Of The Black" und "Wings Of Rage" waren ja schon gut, aber mit dem aktuellen Album "Resurreection Day" packen die Jungs um Mainman Peavy noch einen drauf.
Tracks wie das im fetten Mid Tempo aufmarschierende 'Resurrection Day' mit seinem melodischen Refrain, das mächtig eingängige 'A New Land', das melodische, aber dennoch temporeiche 'The Age Of Reason' mit seinen geilen Hooks in der Vocal Line, die stampfende Hymne 'Monetary Gods', das pumpende 'Mind Control' mit seinem melodischen Hauptriff und der schnelle Banger 'Extinction Overkill' sind genau das richtige Kraftfutter für RAGE Fans und solche, die es werden wollen.
RAGE vereinen hier gekonnt alle ihre Trademarks; die melodischen Vocals von Peavy, geniale Hooks in den Gitarrenriffs und Vocallines und auch die teilerneuerte Back-Kapelle weist hier keine Schwächen auf. Selbst das modernere, etwas an die Smolski Ära erinnernde 'Man In Chains' fügt sich nahtlos in die gut produzierte Scheibe ein.
RAGE sollten sofort zu greifen, aber auch alle anderen qualitätsbewussten Metalheads sollten mindestens ein Ohr riskieren….und dann zu greifen.
Ludwig Lücker vergibt 9 von 10 Punkten