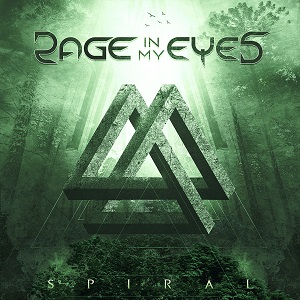 RAGE IN MY EYES
Titel: SPIRAL (EP)
Spieldauer: 19:20 Minuten
Die brasilianische Band RAGE IN MY EYES mischt ihren Power/Prog/Heavy Metal normalerweise mit Elementen des Milonga, einem traditionellen, lateinamerikanischen Genre. Auf der neuen EP "Spiral" gibt es das wenn überhaupt nur in Ansätzen zu hören, dafür aber vier hochklassige neue Tracks.
Man kann sicherlich streiten, ob man eine EP mit einem Intro starten muss, in diesem Fall hat 'Farewell' aber einen ernsten Hintergrund, denn alle Bandmitglieder haben während der Pandemie Angehörige und Freunde verloren. Die EP ist somit dem Abschied gewidmet und eng mit der mit dem Verlust verbundenen "Spiral" an Emotionen verknüpft.
'And Then Came The Storm' ist purer, emotionaler Power Metal und transportiert sowohl Trauer als auch Wut in eindringlicher Weise und mit einem wirklichen Hammer-Chorus. 'Dare To Defy' kommt sowohl musikalisch als auch textlich deutlich härter, krachender und kämpferischer daher.
Eine hoffnungsvolle, emotionale Ballade mit Milonga-Elementen in Form eines Akkordeons und einiger portugiesischer Lyrics und mit einem hymnischen Chorus, stellt das folgende 'Spark Of Hope' dar. Das abschließende 'Spiral Seasons' ist dann eher im Midtempo angesiedelter US-Power Metal und glänzt mit einem langen Gitarrensolo.
Insgesamt ein hochkarätiger Kurzplayer, der die thematisierte Gefühlsspirale perfekt einfängt und vor purer Emotion nur so strotzt und diese zudem in vier grandiose Tracks verpackt.
Michael Gaspar vergibt 8 von 10 Punkten