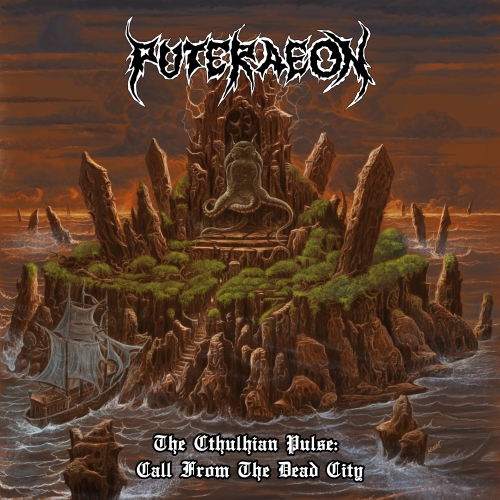 PUTERAEON
Titel: THE CTHULHIAN PULSE: CALL FROM THE DEAD CITY
Spieldauer: 37:04 Minuten
Die ganze Welt regt sich über das S****ßjahr 2020 auf. Eine kleine Gruppe von Menschen, nennen wir sie mal Freunde des klassischen Schwedentods, hat da aber wesentlich weniger Gründe, in das Gemaule mit einzustimmen. Die sind dieses Jahr nämlich ausgesprochen hochqualitativ versorgt worden.
Und Nachschub ist Form des vierten Albums der Lovecraft-Fans PUTERAEON mit dem kurzen und griffigen Titel 'The Cthulhian Pulse: Call From The Dead City' auf dem Weg.
Etwas räudiger und temporeicher als zum Beispiel LIK oder Demonical atmet diese Scheibe durchgehend den Geist der großen Alten (sic!) Dismember, Entombed oder auch Grave-Klassiker. Nach dem Walzenintro 'Horror In Clay' kann man die virtuelle Nadel aufsetzen, wo man will, ob bei 'The Sleeping Dread', 'The Curse', 'Call Of R'lyeh' (Hoffentlich hab ich das jetzt richtig geschrieben, sonst wird mich noch Cthulhu holen) oder dem in meinen Ohren besten, weil abwechslungsreichsten (Abschluß)track 'The End Cometh', überall wird man von den Elchen Speed, Walze, Melodie und Riff nach guter alter Schwedensitte gevierteilt.
Die mehr als amtliche Dan Swanö-Produktion macht das Ganze natürlich auch nicht unbedingt schlechter und somit den Kaffee rund.
Es gilt, wie für die meisten Releases dieser Spielart, ist auch für PUTERAEON mit 'The Cthulhian Pulse:…' kein Originalitätspreis zu gewinnen. Sieht man das ganze Genre als Hommage und es wird dabei so groß abgeliefert, interessiert das aber auch kein Schwein.
Dirk Eckhard vergibt 8 von 10 Punkten