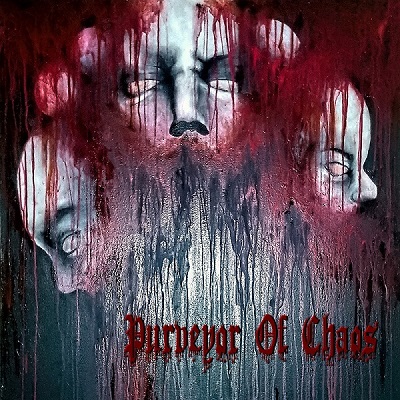 PURVEYOR OF CHAOS
Titel: PURVEYOR OF CHAOS
Label: WORMHOLEDEATH RECORDS
Spieldauer: 51:21 Minuten
VÖ: 24. März 2023
PURVEYOR OF CHAOS sind eine 2007 gegründete Band aus ehemaligen Mitgliedern von Full Give und Penetrator und stellen ihr selbstbetiteltes Longplay-Zweitwerk vor. Das kanadische Quartett kombiniert klassischen Heavy Metal mit Hard Rock und Power sowie Thrash und Speed Metal Einflüssen.
Die Scheibe bietet elf packende, brandneue Songs und geht mit dem Banger `Four Point Harness´ und dem großartigen Ohrwurm `Bitter´ direkt in die Vollen. Die Vocals von Sänger Maxel Black changieren zwischen kraftvollem Metal, traditionellen Screams und ein wenig Kind Diamond Theatralik.
Die Songs eifern Priest und Maiden andererseits, aber auch mal eher Sabbath und Dio nach, wie im Fall des doomigen `Man Of The Cloth´ mit seinen abschließenden Mönchsgesängen. Auf das mächtige, schnelle `Without A Master´ folgt der grandiose Titelsong, der mit lauten Sirenen beginnt und das volle metallische Gesamtpaket mit schweren Riffs, hohen Vocals und Screams, einem knackigen Solo und einem eingängigen Chorus bietet.
Die zweite Albumhälfte ist dann mehr dem Heavy/Hard Rock gewidmet, wovon das fulminante `12 Pound Sledge´ mit seiner Southern Rock Kante zu berichten weiß. Es folgen die groovige, eingängige Nummer `Fake News´, der straighte Rocker `Lies In My Bed´ und das experimentell-psychedelische und ein wenig ironische `Dead Men Don't Tour´, bevor das überraschende und überraschend bluesige und progressive Instrumental `Juggernaut´ eine fantastische Platte mit Bravour beschließt.
Von Gewalt und Chaos kann hier mal so gar keine Rede sein, "Purveyor Of Chaos" ist ein abwechslungsreicher, durchweg überzeugender, durchdachter und fesselnder Silberling mit durchgehend frischen, mitreißenden Songs.
Michael Gaspar vergibt 8,5 von 10 Punkten