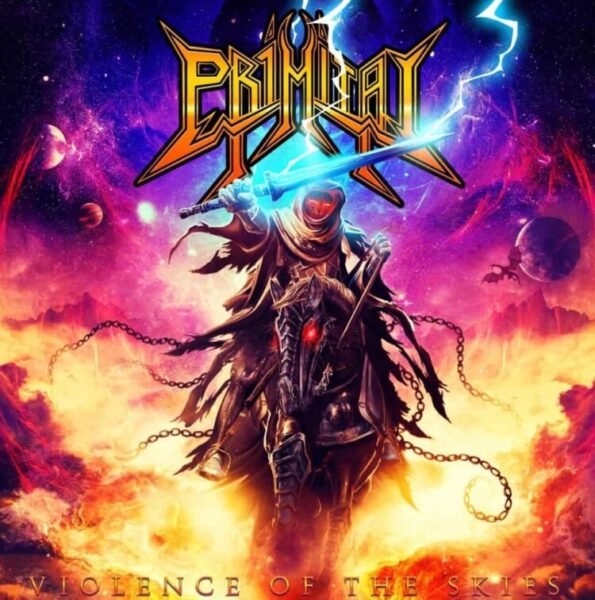 PRIMITAI
Titel: VIOLENCE OF THE SKIES
Label: Rock Of Angels Records
Spieldauer: 64:19 Minuten
Die Briten PRIMITAI beehren uns dieser Tage mit ihrem neuen Album "Violence Of The Skies". Laut Info bieten die Herren von der Insel klassischen Metal, angereichert mit Power- und Prog-Elementen. Das würde ich auch so unterschreiben, wobei sich der progressive Teil, meines Erachtens, dezent im Hintergrund hält.
Mit 'Stars Are My Guide' steigt man auch gleich recht flott ein. Der Song ist sehr abwechslungsreich und bietet genau das, was eingangs versprochen wurde. So darf es gerne weitergehen – und das tut es auch. Auch 'Uprising' ist eine schmissige Uptempo Nummer, die das Herz eines jeden Bangers erfreuen dürfte. Danach geht es mit 'Violence Of The Skies' und 'Valley Of Darkness' etwas melodischer zu, ohne dabei allerdings an Heavyness einzubüßen. Mit 'Warriors Of Time' folgt ein recht ordentlicher aber auch eher durchschnittlicher Song, was jedoch durch die folgende Power Metal Granate 'Innocent' mehr als nur wieder wett gemacht wird. Mit 'Put To The Sword' schließt sich eine grundsolide Mitgröhlnummer an, zu der Paul Quinn von Saxon ein Solo beigesteuert hat. Die nächsten drei Songs 'The Cold Surface Of The Moon', 'I'll live again' und 'The Strom Kings' halten das gutklassige Niveau und bilden einen würdigen Abschluss für ein, alles in allem, sehr gelungenes Album. Die CD-Version bietet noch zwei Bonus Tracks, die meines Erachtens aber entbehrlich sind.
Fazit: PRIMITAI haben mit "Violence Of The Skies" ein formidables Album an den Start gebracht, dass durchaus das Zeug dazu hat, im Wust der Neuerscheinungen nicht unterzugehen. Freunde klassischer Metal-Sounds mit ordentlich Schmackes können hier also bedenkenlos zugreifen.
Melanie Pank vergibt 8 von 10 Punkten