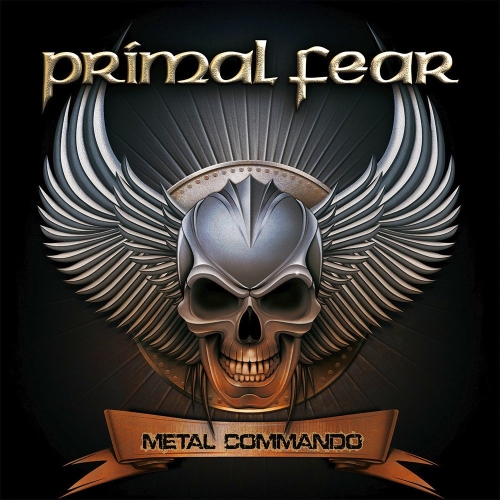 PRIMAL FEAR
Titel: METAL COMMANDO
Spieldauer: 56:58 Minuten
Auf PRIMAL FEAR ist Verlass! Nur sehr wenige Bands schaffen es über die Jahre konstant gute Alben zu veröffentlichen und sogar noch eins draufzulegen. Mit "Metal Commando" schafft die Band um Mat Sinner genau das. Frei nach dem Motto: "What was heavy is heavier, what was epic is even more epic, what was fast is faster and what was dark is darker." hauen PRIMAL FEAR im 22. Jahr ein Album raus, das den klassischen Heavy ebenso wie den Power Metal aufs feinste zelebriert. Fette Riffs,Twin-Gitarren, eine außerordentlich gute Gesangsperformance von Ralf Scheepers, große Melodien und eine mächtige Produktion von Mat Sinner und Jacob Hansen, welche die Songs entsprechend in Szene setzt.
Eröffnet wird "Metal Commando" mit dem Double-Bass getriebenen 'I am alive' Banger, bei dem die genannten Stärken voll ausgespielt werden. 'Along Came the Devil' stampft in bester traditioneller Accept-Manier, 'The Lost & The Forgotten' wartet phasenweise mit erstaunlich harten Vocals und Riffs auf. 'I Will Be Gone' ist die unausweichliche Balladebei der Scheepers Stimme glänzt und so geht es weiter. Mehr Licht als Schatten sind bei den zehn Songs zu verzeichnen, bevor dann das epische 13-minütige Biest 'Infinity', der längste Track, den PRIMAL FEAR jemals veröffentlicht haben, das Album beendet. Bombastisch, emotional dramatisch und stampfender Banger, mit ausgedehntem Instrumental-Mittelteil und  einem symphonischen Ende. Der Song ist alles in einem und ein würdiges Ende für ein starkes Album.
PRIMAL FEAR setzen ihren Weg auch in der neuen Besetzung , inklusiver drei Gitarren und Ex-Gamma Ray Drummer Michael Ehré,  konsequent fort. Der Teutonen-Metal hat aber einen neuen Anstrich erhalten und präsentiert sich glänzend wie selten zuvor.
Die Fans werden dieses Album lieben.
Sven Bernhardt vergibt 8 von 10 Punkten