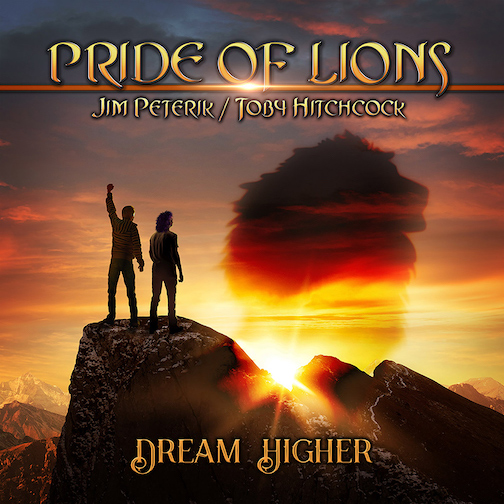 PRIDE OF LIONS
Titel: DREAM HIGHER
Spieldauer: 44:09 Minuten
VÖ: 16. Juni 2023
PRIDE OF LIONS, das sind der Melodic Rock Veteran, legendäre Songwriter und The Ides Of March Mitglied Jim Peterik sowie der US Vokalist und Mittvierziger Toby Hitchcock, die das siebte Studioalbum "Dream Higher" präsentieren.
Das Duo und seine instrumentalen Mitstreiter bieten klassischen, unaufgeregten Melodic Rock mit traditionellem, ausgereiftem Songwriting, dem man das Alter seines Urhebers durchaus anhört, was hier jedoch als Qualitätsmerkmal verstanden werden sollte.
Peterik erweist sich abermals als versierter Songwriter und talentierter Musiker sowie Schöpfer zeitloser, melodischer Rocksongs. Und sein "Partner in Crime" liefert eine einwandfreie, frische Gesangsleistung, die den Songs die nötige Power und Finesse verleiht.
Das gilt für den grandiosen Opener `Blind To Reason´ ebenso wie den im positivsten Sinne tollen Schmachtfetzen `My Destiny´, den Titeltrack und das beschwingte und schwungvolle `Find Somebody To Love´.
Bei `Another Life´ klingt Hitchcock zum ersten, aber nicht einzigen Mal wie eine Mischung aus Meat Loaf, und ich hoffe das wird ebenfalls als Kompliment aufgefasst, Elton John. Zumal der hymnisch-melodische Song tatsächlich auch aus König der Löwen stammen könnte. Schaut man sich zudem Bandname und Coverartwork an, könnte man hier fast eine Hommage vermuten.
Erwähnung finden sollen außerdem noch das ausgereifte `Driving And Dreaming´ sowie der abschließende flotte Ohrwurm `Generational´.
Fazit: Gelungener, kurzweiliger, angenehmer und ein wenig nostalgischer Hörgenuss ohne die Riesen-Glanzlichter, aber mit durchweg guten, stimmigen Tracks ohne nennenswerte Schwachpunkte.
Michael Gaspar vergibt 7,5 von 10 Punkten