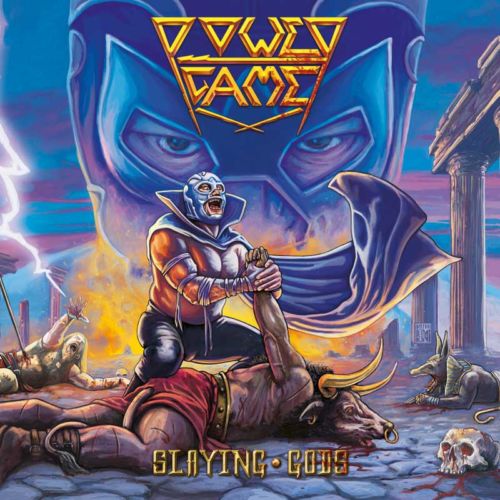 POWERGAME
Titel: SLAYING GODS
Spieldauer: 46:48 Minuten
VÖ: 18. März 2022
Die Truppe aus der ostwestfälischen Stadt Bielefeld – die es Gerüchten nach ja überhaupt nicht geben soll – schießt hier auf ihrem neuesten Output, dem mittlerweile auch schon dritten, aus allen Rohren.
Traditioneller Metal mit vielen knackigen Riffs ist die Basis ihrer Mucke. Auf dieser Basis mäandern sie aber durch die diversen Subgenres.
Mit ordentlich Speed aber dennoch hymnischen Refrain wie bei dem Titeltrack 'Slaying Gods', zwischen Galoppel Up Tempo Parts und Stampfer wechselnd bei 'Fire In The Sky', doomig/episch wie bei 'The End Of The World' oder dem nach alten, epischen Blind Guardian Werken gemahnenden, fast zwölf-minütigen Rauswerfer 'The Chalice'; POWERGAME kredenzen uns hier gute bis sehr gute Kost und bleiben dabei stets abwechslungsreich.
Zudem passen die mittelhohen, leicht rauen Vocals von Matthias Weiner gut zur Mucke und auch an der Produktion gibt es nichts zu meckern.
POWERGAME schaffen es, bei aller Abwechslung die sie bieten, den berühmt berüchtigten roten Faden zu wahren. Die Freunde der bekannten traditionellen Festivals können mit dem Erwerb des Drehers nur richtig liegen, zumal der Wrestler als Bandmaskottchen nach dem kraftlosen Auftritt auf dem Artwork der "The Lockdown Tapes" wohl nun wieder zu Kräften gekommen ist.
Ludwig Lücker vergibt 8 von 10 Punkten