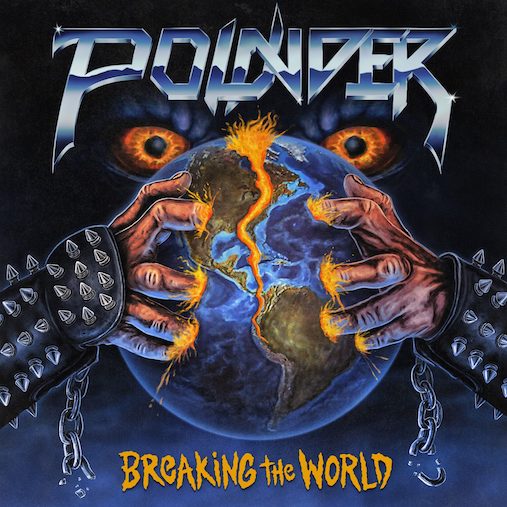 POUNDER
Titel: BREAKING THE WORLD
Label: Shadow Kingdom Records
Spieldauer: 34:39 Minuten
Nachdem das Debut "Uncivilized" vor zwei Jahren noch bei Hells Headbangers Records erschien, veröffentlicht das kalifornische Trio von POUNDER nun den Nachfolger über Shadow Kingdom Records.
An der musikalischen Ausrichtung von "Breaking the world" hat sich indes glücklicherweise so gut wie nichts geändert. Nach wie vor dominiert traditioneller (US-)Metal mit überdurchschnittlicher Gitarrenarbeit, der durchaus seine Freunde finden sollte. Etwas sauberer produziert als der Erstling, gehen alle Songs wie etwa der schnelle, hymnische Opener 'Spoils of war' oder der stellenweise Erinnerungen an alte Manowar weckende Titeltrack gut nach vorn los und kommen ohne große Schnörkel auf den Punkt. Etwas unpassend mutet allerdings der Refrain von 'Never forever' an, der aber einen Kontrast zu den rauhen Vocals von Matt Harvey, der auch bei den Death-Huldigern von Gruesome aktiv ist, bildet. Mit dem schnellen 'Deadly eyes' befindet sich ein weiterer Höhepunkt der Scheibe am Schluss.
Für Freunde von Bands wie Skull Fist, Night Demon oder einer härteren Version von Haunt sind POUNDER nicht zuletzt aufgrund des druckvollen Sounds eine lohnenswerte Anschaffung, auch wenn ich mich bei einer Laufzeit von knapp 35 Minuten über ein oder zwei weitere Songs gefreut hätte. Dies dürfen die Jungs dann aber gern beim dritten Album nachholen. Die CD kommt im Jewelcase.
obliveon vergibt 7,5 von 10 Punkten