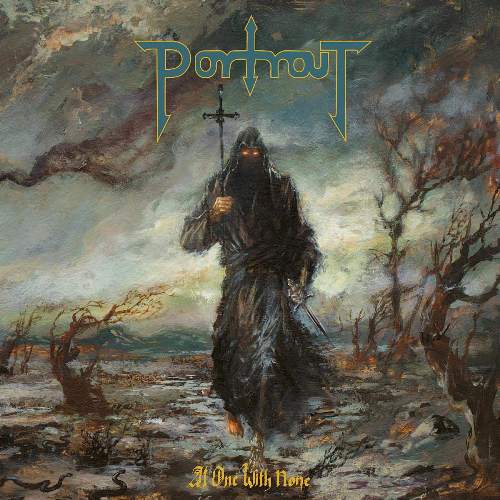 PORTRAIT
Titel: AT ONE WITH NONE
Spieldauer: 63:54 Minuten
Gut, ich gebe zu, ich bin bekennender PORTAIT Fan. Von einer guten, aber noch etwas identitätslosen Mercyful Fate worshipping Band haben sie sich von Scheibe zu Scheibe ihre eigene Identität einer düsteren, traditionellen Metal Band geschaffen, ohne ihre eigenen Einflüsse dabei zu verleugnen.
Nun also, vier Jahre nach dem ohnehin schon guten "Burn The World" kredenzt uns die Truppe aus Kristianstad ihr neues Langeisen "At One With None" und ist, Satan sei Dank, ihrem eigenen Stil treu geblieben.
Traditionelle Tracks wie 'Curtains (The Dumb Supper)' oder 'Shadowless' wechseln sich ab mit düsteren Tracks a'la 'He Who Stands' oder der üblichen Mercyful Fate Huldigung 'A Murder Of Crows'. Aber auch epische Longtracks wie das über neun minütige 'Ashen' beherrschen die Jungs und langweilen dabei zu keiner Sekunde. Empfehlenswert sind übrigens auch noch der Titeltrack 'At One With None', 'Phantom Fathomer', '',The Gallow's Crossing ', 'The Blood Is The Life' und 'Farewell To The Flesh'……ups, das waren ja schon alle Tracks des Drehers.
Per Lengstedt veredelt mit seiner eigenwilligen Stimme, die über Dunkelheit und den Satan repetiert, den musikalischen Teppich, der ihm von seinen Mitmusikern Anders Persson, Christian Lindell und Fredrik Petersson ausgelegt wird, auf unnachahmliche, wenn auch nicht für jedermann eingängigen, Weise.
Hoffentlich begehen PORTRAIT nicht irgendwann den Fehler ihrer damaligen Kumpane von In Solitude und wollen "überraschen" und "innovativ" werden. Sie sollten vielmehr ihren eingeschlagenen Weg weiter gehen, denn dann könnten sie zu einer echten Größe im Heavy Metal werden.
Für mich eines der Highlights des Jahres! Kaufpflicht für Headbanger!!
Ludwig Lücker vergibt 9,5 von 10 Punkten