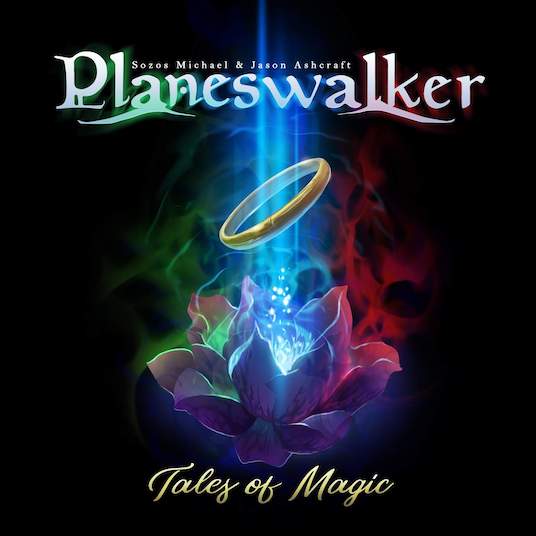 PLANESWALKER
Titel: TALES OF MAGIC
Spieldauer: 46:30 Minuten
Die neue, vom bekannten Sammelkartenspiel "Magic: The Gathering" inspirierte Power Metalband PLANESWALKER präsentiert sein passenderweise "Tales Of Magic" betiteltes Debütalbum. Das amerikanisch-zypriotische Duo wurde gegründet von Helion Prime-Gitarrist Jason Ashcraft und seinem ehemaligen Bandkollegen und jetzigen Gloryhammer-Sänger Sozos Michael.
An Talent und musikalischer Erfahrung mangelt es also schon mal nicht und natürlich haben auch die Lyrics und sogar der Bandname einen Bezug zum Spiel. Es handelt sich um Figuren im Magic-Multiversum, die äußerst rar sind und noch seltener die Fähigkeit der Weltenwanderung besitzen.
Für prominente Gastbeiträge auf "Tales Of Magic" sorgen Brittney Slayes (Unleash the Archers), Heather Michele (ex-Helion Prime), Taylor Washington (Paladin) und R.A. Voltaire (Ravenous). Wenden wir uns aber dem Wichtigsten zu: der Musik.
Die Basis des Bandsounds ist schneller, europäischer Power Metal mit melodischen Leads und Michael´s Tenorstimme. Die Gitarrenarbeit ist oft bissig und heavy bis hin zu thrashigen Ausbrüchen auf der einen und epischen progressiven Passagen auf der anderen Seite.
Hinzu treten neoklassische und Barock-Elemente, breite, theatralische Refrains und epische, cineastisch-majestätische Momente sowie komplexe Songstrukturen und Orchestrierungen. Die Vocals reichen von melodisch über klassisches Timbre bis hin zu weiblichen und männlichen Growls und sind dabei oft mehrstimmig.
Diese Aufzählungen deuten bereits ein Problem der Platte an, denn zum einen wirken die fünf bis elf Minuten langen Tracks manchmal überfrachtet mit Ideen und facettenreichen Elementen. Zum anderen vermisst man aber etwas die Stringenz und hat das Gefühl, dass etwas fehlt und/oder, dass die Kompositionen nicht hundertprozentig zu Potte kommen.
Man höre dazu nur den Opener und Titelsong, das vorab ausgekoppelte 'The Spark' und 'The Forever Serpent an. Aber eigentlich wäre jeder Track geeignet, dies zu untermauern. Doch das ist wieder einmal Jammern auf echt hohem Niveau, denn jedes Stück hat auch wunderschöne, teilweise äußerst eingängige und/oder anspruchsvolle Passagen zu bieten.
All dies gilt auch für das über elfminütige Epos 'Oath Of The Gatewatch'. Einzige Ausnahme stellt da das gelungene, in eine knackige, mit packendem Gitarrensolo veredelte Power Metal Hymne verwandelte, KISS-Cover A Million To One (von: "Lick It Up", 1983) dar.
Ein ambitioniertes, unterhaltsames Werk, dessen Talent, Energie und Spielfreude offensichtlich und ansteckend, die Kompositionen aber nicht immer zwingend sind. Man kann nur erahnen wie viel Kreativität und Power hier noch im Verborgenen schlummert.
Michael Gaspar vergibt 7 von 10 Punkten