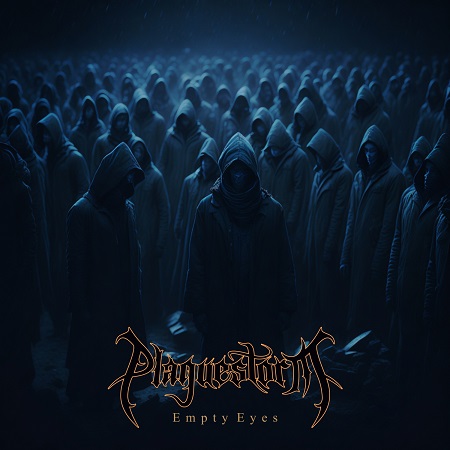 PLAGUESTORM
Titel: EMPTY EYES (EP)
Spieldauer: 15:45 Minuten
VÖ: 20. Oktober 2023
Nach den drei Studioalben "Everything's Gone Wrong" (2015), "Mother of Plagues" (2019) und dem aktuellen Dreher "Purifying Fire" (2021) veröffentlichen die argentinischen Melodic Death Metaller PLAGUESTORM ihre drei Tracks umfassende EP "Empty Eyes".
Gegründet 2014 von Mastermind Sebastián Pastor als weitgehende One-Man-Show mit befreundeten Gastmusikern liefert die Truppe ihre eigene Melodic Death Mischung aus furiosen Melodien, hohem Tempo und aggressiven Vocals und leichten dunklen, melancholischen Untertönen, während man Inspiration sowohl aus dem alten als auch dem neuen "Scandinavian Sound of Death Metal" bezieht.
Dieses Mal wird Pastor von der Gesangspower von Okko Solanterä (Horizon Ignited) und dem meisterhaften Fleshgod Apocalypse Drummer Eugene Ryabchenko unterstützt, sowie vom talentierten Diego Martinez für einige Gitarrensoli.
Die Auskopplung "`Thrown into the Void´ is a very fast song, with a lot of blast beats, skanks and tremolo riffs, "an old school Melodic Death Metal song" you could say… speed, melodies, blasts, growls… a little touch of clean vocals and a simple but melodic guitar solo… that's what my doctor recommended me these days ;)"
Dem ist an sich nichts hinzuzufügen, außer dass man von der Besetzung sowohl vom Song, vor allem aber vom Sound ein wenig mehr erwarten konnte, denn an sich ist hier der Chorus der Star, doch die cleanen Passagen sind um einiges zu leise geraten und kommen gegen die sonstige, oben beschriebene Soundwand mit den sägenden Death Metal Riffs und den ansonsten harshen Vocals nicht wirklich an.
Das zweite Stück `Gardens Of Fire´ schlägt in eine ähnliche Kerbe und verfügt über schicke Leads und ein gutes Solo, ohne jedoch wirklich zu begeistern. Das kann in Ansätzen der abschließende Titelsong, der nach gut drei Minuten gefühlt nochmal neu startet und in einen packend-atmosphärischen, rhythmisch spannenden, überwiegend instrumentalen Schlussteil übergeht und für ein musikalisches Glanzlicht sorgt.
Michael Gaspar vergibt 6,5 von 10 Punkten