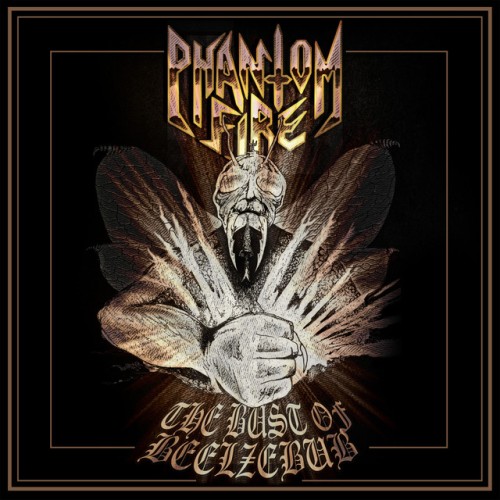 PHANTOM FIRE
Titel: THE BUST OF BEELZEBUB
Spieldauer: 28:57 Minuten
Kurz und knackig, so präsentiert sich der Debüt Longplayer der norwegischen Kapelle PHANTOM FIRE. Das Duo ballert seine sieben Songs in unter einer halben Stunde durch die Ziellinie.
Da trifft es sich gut, dass die beiden Instrumentalisten Eld und Kjartan, die auch in anderen Bands ihr Unwesen treiben, sich dem Stil des Blackned Speed Metal, wahlweise auch dem des speedigen Black Metal, verschrieben haben, wo ausgedehnte Instrumentalpassagen eh nicht so gefragt sind.
So ballern die Rabauken bei Tracks wie bei dem zwischen Speed und pumpendem Mid Tempo wechselnden Opener 'Return Of The Goat' – watt sonst -, dem von groovenden Drums eingeleiteten Speedster und gleichzeitigen Titeltrack The Bust Of Beelzebub' und bei dem im treibenden Up Tempo gehaltenen 'Feed On Fire' dermaßen knackig aus den Boxen, dass selbst bei dem Gehörnten persönlich wohl die Nackenmuskulatur zu zucken beginnen würde.
Zwar ist der Sound eher durchschnittlich gestaltet, was aber bei der Art Mucke, die mehr auf Underground Credibility setzt, nicht wirklich dramatisch ist. Freunde angeschwärzten Speed Metals sollten hier definitiv ein Ohr riskieren, wahlweise auch Freunde des…….siehe oben.
Ludwig Lücker vergibt 7,5 von 10 Punkten