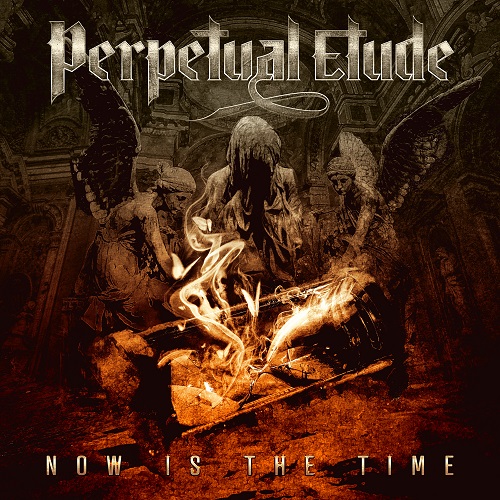 PERPETUAL ETUDE
Titel: NOW IS THE TIME
Label: BLACK LODGE/ROUGH TRADE
Spieldauer: 31:15 Minuten
Im Jahr 2019 gründete Magnus Mild die Band PERPETUAL ETUDE, um dem Heavy Metal der 80er zu frönen und versammelte zu diesem Zweck Mitglieder von NorthTale und Ex-Member von Dionysis, Nation und Shadowquest um sich.
Das nun fertiggestellte Debüt "Now Is The Time" ist dann tatsächlich Melodic Metal/Hardrock im Stil des achten Jahrzehnts des vorigen Jahrhunderts "at its best". Die Schweden gehen mit viel Melodie aber auch einer gesunden Portion Härte zur Sache. Die beiden Vorabsingles 'Show Me' und 'Once We Were One' sind der Beweis dafür und zwei eingängige, melodische Metal-Ohrwürmer vom Feinsten obendrein.
Die Scheibe bietet kraftvolles Riffing sowie Weltklasse-Vocals und trieft vor packenden Soli und fulminanten Refrains. Hervorzuheben sind weiterhin das hymnische 'Now Is The Time' sowie das grandiose 'Sail Away', das gemeinsam mit Gast Göran Edman (u. a. Yngwie Malmsteen, Brazen Abbot, Kharma) aufgenommen wurde.
Da sich auch die abschließende Power-Ballade 'Our Love' als hörenswert und keineswegs kitschig herausstellt, ist der einzige kleine Kritikpunkt eigentlich die relativ kurze Spielzeit des Debütdrehers von nur knapp über dreißig Minuten. Indes: besser eine gute halbe Stunde voller Kracher als eine volle Stunde mit jeder Menge Füllmaterial!
Michael Gaspar vergibt 8 von 10 Punkten