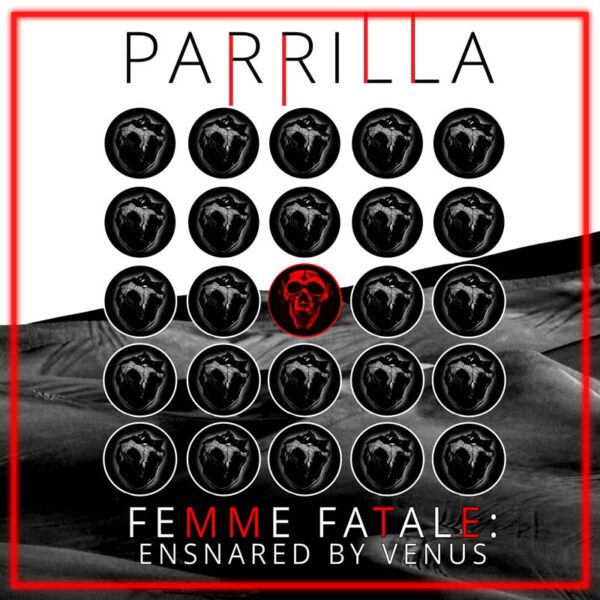 PARRILLA
Titel: FEMME FATALE: ENSNARED BY VENUS (EP)
Label: INDEPENDENT RELEASE
Spieldauer: 26:07 Minuten
Die englische Industrial Metal-Band PARRILLA stammt aus dem malerischen Seebad Southend-on-Sea am nördlichen Ufer der Themse-Mündung. Und doch produziert der Vierer einen ziemlich düsteren, harten Industrial-Sound. Oder wie es der Info-Text etwas blumig formuliert, PARRILLA sei "eine Naturgewalt, bereit furcht- und rücksichtslos, Klänge und Genregrenzen zu sprengen und auf den Trümmern zu tanzen."
Dabei stellt "Femme Fatale: Ensnared By Venus" den ersten Teil einer ambitionierten EP-Trilogie dar, deren ernste Texte sich um unausgeglichene, ungesunde Beziehungen, vergiftete Lust, verfehlte Liebe und falsch verstandene Loyalität drehen.
Die ersten Tracks sind dann auch dementsprechend sperrig und schwer verdaulich. Pumpende, mal eher treibende, mal schleppende Beats treffen auf harte Riffs und verzerrte Vocals. Eine explosive Mischung, für die sowohl, Nine Inch Nails, Ministry, aber auch Die Krupps oder Rob Zombie Pate gestanden haben dürften, die in den ruhigeren Momenten aber auch an The Sisters Of Mercy oder gar Depeche Mode erinnert.
Die zweite Hälfte der sechs Tracks ist dann deutlich eingängiger geraten und mit 'Mannequin Complex' und dem Quasi-Titelsong 'Femme Fatale' sind den UKern sogar zwei hitverdächtige, kraftvolle "Industrial Rock/Pop-Songs" gelungen. Während das im ersten Fall an der variablen Rhythmik, den hypnotischen Wiederholungen der Vocals und viel Tempo und Dynamik liegt, stehen beim abschließenden Song Eingängigkeit und der fantastische Chorus im Mittelpunkt.
Insgesamt wie fast jede EP schwierig abschließend zu bewerten, aber in jedem Fall ein origineller, spannender Sound, der Laune macht und den Hörer neugierig auf die beiden noch folgenden Teile der angekündigten Trilogie zurücklässt.
Michael Gaspar vergibt 7 von 10 Punkten