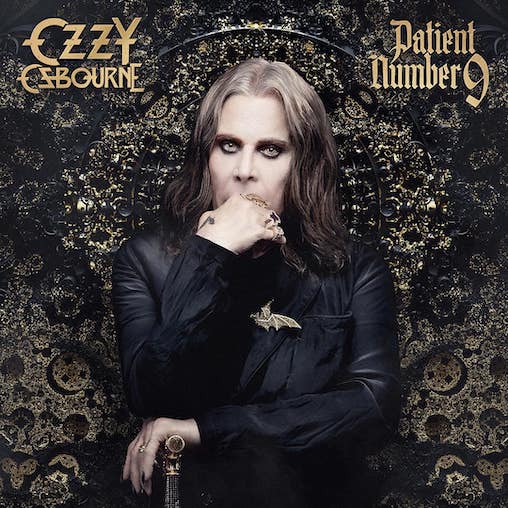 OZZY OSBOURNE
Titel: PATIENT NUMBER 9
Spieldauer: 61:12 Minuten
VÖ: 09. September 2022
Zweieinhalb Jahre nach seinem letzten Album "Ordinary Man", das man schon für sein finales Abschiedsalbum hielt, kommt "Patient Number 9" heraus und klingt weitaus metallischer und sogar frischer als die letzte Scheibe des gesundheitlich schwer gebeutelten Prince Of Darkness.
Zwölf Songs, plus das Outro "Darkside Blues", hat OZZY für sein Soloalbum Nummer 13 eingespielt, das mit Sicherheit stärker und härter ausgefallen ist als sein Vorgänger und im Gegesantz dazu vor allem die bangende Zielgruppe wieder stärker ins Auge fasst. Was beide Alben jedoch gemeinsam haben, ist eine ganze Latte an Gastmusikern, von denen weniger legendäre Musiker nur träumen können: So geben sich hier die Stars die Klinke der Studiotür in die Hand:  Zakk Wyld, Eric Clapton, Mike McCready (Pearl Jam), Chad Smith (Red Hot Chili Peppers), der vor kurzem verstorbene Taylor Hawkins (Foo Fighters), Robert Trujillo (Metallica), Duff McKagan (Guns N' Roses), Chris Chaney (Jane's Addiction) und last but not least OZZYs Black Sabbath Bandkollege Tony Iommi, mit dem gemeinsam die lebenslange Karriere begann.
Trotz der zahlreichen Gäste, klingt das neue Album nicht nach Flickwerk, sondern wirkt wie aus einem Guss. Typische Old School Songs wie `No Escape From Now` oder `Degradation Rules`, die natürlich einen Black Sabbath Vibe versprühen aber auch OZZY-typische new School Tracks, finden sich gleichermaßen auf "Patient Number 9".  So freut sich der Fan über die seit "Diary Of A Madman" gewohnt psychotisch und bedrohlich klingenden Tonfolgen wie z.B. bei `Evil Shuffle` oder auch über melodische Tracks wie `God Only Knows`, das mit großer Melodieführung daher kommt. Auch die 80er Jahre lassen sich klanglich wiederfinden, wie zum Beispiel beim Titeltrack oder der Halbballade `A Thousand Shades` ohne, dass die Scheibe zu stark auseinander driften würde.
Dass sich der Gesang dabei voll auf der Höhe befindet, muss bei einem Vollprofi wie OZZY eigentlich gar nicht mehr erwähnt werden. Mach ich hier trotzdem!  Kurzum: Einzelne Highlights aus den Songs herauszugreifen fällt schwer, denn die Tracks sind meist nicht ganz eindeutig einer Phase zuzuordnen, die man bevorzugen könnte und qualitativ insgesamt einfach hochklassig.
Wer OZZY bereits zu den Toten gezählt hatte, wird hier eindeutig eines Besseren belehrt. Der Mann ist offenbar von nichts unterzukriegen und mehr kann man musikalisch nicht erwarten.
Sven Bernhardt vergibt 9 von 10 Punkten