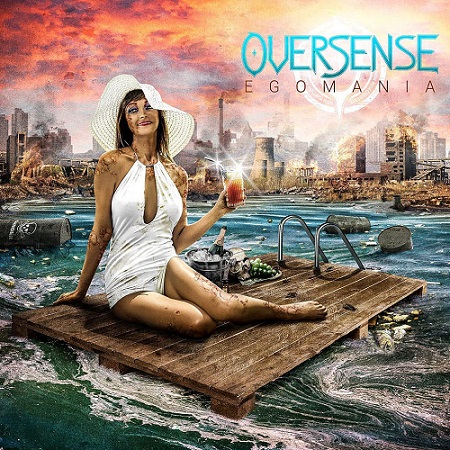 OVERSENSE
Titel: EGOMANIA
Spieldauer: 54:42 Minuten
Modernen, durchaus harten Melodic Metal macht die noch junge, vielversprechende, deutsche Band OVERSENSE. Nun kommt das zweite Album "Egomania" vier Jahre nach dem Debüt "The Storyteller" (2017).
Dabei beweist das Quartett ein Händchen für großartigen Songs mit Ohrwurm-Potential. Gleich der heavy Opener 'Toast To The Devil' und das folgende, eher dunkel-eindringliche 'The Longing' inklusive kurzem Solo beweisen dies eindrucksvoll. Das folgende, erste Duett der Platte, nämlich 'Be' featuring Herma Sick (Sick N' Beautiful) glänzt ebenso und vor allem durch seinen eingängigen, mehrstimmigen Chorus.
'My Eden' ist eine fulminante, moderne Power Metal Hymne und der "Hit" der Platte, während 'Tear Me Down' eher in Gothic-Gefilden wildert. Die finster-dramatischen Lyrics von 'Love' fängt auch die Komposition perfekt ein, bevor 'Faith' featuring Ulli Perhonen (Snow White Blood) wie auch das folgende 'Rave In Hell' erneut durch unfassbare Wahnsinns-Refrains bestechen.
Ein weiterer großer Pluspunkt und Trademark des Bandsounds ist die einzigartige, unverwechselbare Stimme von Frontmann Danny Meyer, die eine gewisse Düsternis und Melancholie transportiert und über enormen Wiedererkennungswert verfügt.
Perfekter Sound, kritische, aktuelle Texte, fantastische, majestätische Songs und ein überdurchschnittlicher, charismatischer Sänger machen "Egomania" zu einer brillanten, vielseitigen Scheibe ohne einen einzigen Durchhänger.
Michael Gaspar vergibt 8,5 von 10 Punkten