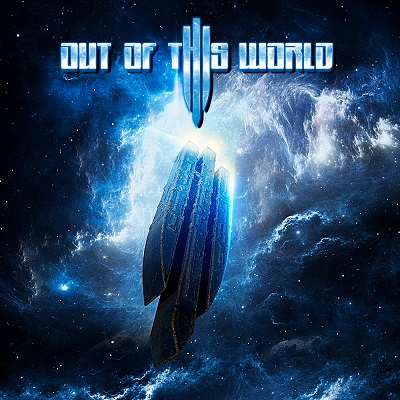 OUT OF THIS WORLD
Titel: OUT OF THIS WORLD
Label: ATOMIC FIRE RECORDS
Spieldauer: 59:51 Minuten
Die neue Melodic-Hard-Rock-Supergroup OUT OF THIS WORLD hat dieses Prädikat wahrlich verdient; besteht sie doch aus dem früheren Europe-Gitarristen Kee Marcello, Sänger Tommy Heart (Fair Warning), Bassist Ken Sandin (Alien) sowie Schlagzeuger Darby Todd (Devin Townsend, Gary Moore, The Darkness). Zudem sorgt für die "Keyboardmagie" auf ihrem selbstbetitelten Debüt kein Geringerer als Don Airey (Deep Purple).
Dabei legt das Quartett hörbar ebenso fulminante Spielfreude und mitreißende Leidenschaft an den Tag wie es einen enormen Fundus an Erfahrung und musikalischem Können auf sich vereinigt. Bereits der siebenminütige Opener 'Twilight' beweist eindrucksvoll, wo der Melodic-Hammer hängt.
Die zehn Tracks der erfahrenen Truppe beweisen ein Händchen für eingängige Hooks und tightes Zusammenspiel und wirken frisch und mitreißend. Und auch wenn das alles andere als modern ist und die Keyboards manchmal arg dominant und zuckrig geraten, kann man sich der Magie und Eingängkeit von Songs wie der furiosen Auskopplung 'Hanging On' oder von AOR-Hymnen wie 'Lighting Up My Dark' und 'Up To You' nur schwerlich entziehen.
Ebenso packend und überzeugend sind die majestätische (Halb-)Ballade 'In A Million Years', das wiederum progressiv angehauchte 'Staring At The Sun' und der weitgehend synthiefreie Rocker 'The Warrior' geraten.
Die Grenzen zu Kitsch und übertriebenem Zuckerguss sind zwar fließend und werden auch hier ausgereizt und manchmal überschritten, wie allein schon noch folgende Songtitel wie 'Ain't Gonna Let You Go' und 'Only You Can Teach Me How To Love Again' zeigen.
Insgesamt dennoch ein stimmiges, hochklassiges Album mit grandioser Gitarrenarbeit, faszinierenden Synthies, markanter Stimme und einigen, einprägsamen Ohrwürmern. Die Doppel-CD/LP beinhaltet außer den drei Bonustracks (Demoversionen) noch eine Bonus-Live-Scheibe mit sieben Songs.
Michael Gaspar vergibt 8 von 10 Punkten