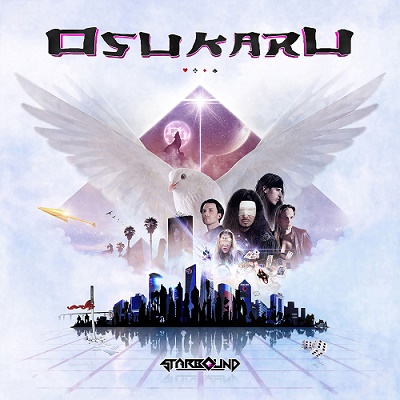 Spieldauer: 39:24 Minuten
"Starbound" ist das sechste Studioalbum der Glam Metalband OSUKARU. Das schwedische Quartett fabriziert einen Sound irgendwo zwischen klassischem Heavy Metal, melodischem Rock 'n' Roll und eingängigem Hardrock.
Doch leider lässt mich ein Großteil der Stück ziemlich kalt und es bleibt wenig im Gedächtnis haften. Anspieltipps am ehesten noch das gute Einstiegsdoppel aus Titelsong und 'Rise Of The Underdog' sowie das fesselnde 'Joker (In The House Of Cards)' und das flotte 'Shut It Out'.
Bezeichnend, dass ich mit 'Within The Depths Of Love' die obligatorische Power-Ballade als meinen persönlichen Favoriten bezeichnen würde, zu wenig packend sind die übrigen Melodien, überzeugen die Refrains der anderen Tracks.
Für Fans von Dokken, Jaded Heart oder den schwedischen Kollegen von Treat geeigneter, solider Melodic Rock/Metal-Silberling "für zwischendurch", leider nicht mehr, aber auch nicht weniger.
Michael Gaspar vergibt 6 von 10 Punkten