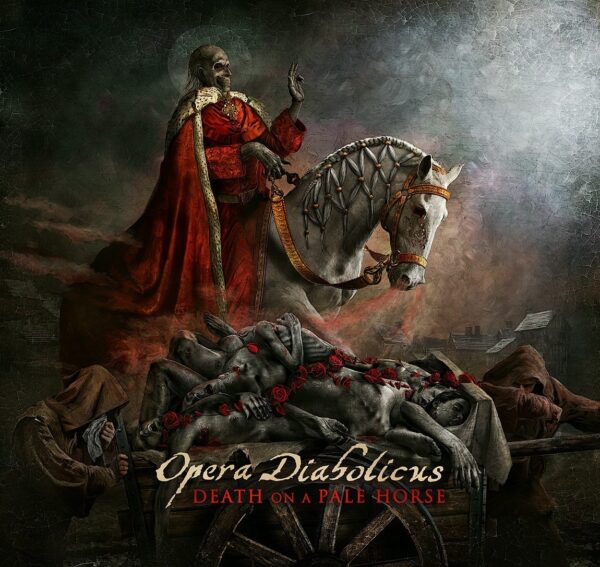 OPERA DIABOLICUS
Titel: DEATH ON A PALE HORSE
Spieldauer: 59:15 Minuten
OPERA DIABOLICUS, das Projekt der beiden Schweden David Grimore (Gitarren, Keyboards) und Adrian de Crow (Bass), kreiert mit ihrem Zweitling "Death On A Pale Horse" ein Horror Musical aus Heavy Metal mit Power-/Gothic- und Symphonicanteilen.
Dabei stehen den beiden die Gäste Mats Levén (Candlemass, Therion, Skyblood, TSO), der einen Großteil der Vocals übernimmt, Snowy Shaw (King Diamond, Mercyful Fate, Therion, Notre Dame), Andy La Rocque (King Diamond) und Michael Denner (King Diamond, Mercyful Fate) sowie die beiden Sängerinnen Madeleine Liljestam (Eleine) und Angelina DelCarmen zur Seite.
Die neun Tracks sind episch, teilweise melodramatisch und intensiv; die oft – auch zwischen Männlein und Weiblein – verteilten Gesangsparts führen zu einem Musical- bzw. Opern-Effekt und dem Gothiceinschlag. Das gedrosselte, manchmal gar schleppende Tempo fühlt sich beinahe "doomig" an und die ausufernden Instrumentalpassagen beispielsweise in den langen und trotzdem eingängigen und kurzweiligen Tracks wie 'Second Coming' und 'Darkest Doom On The Brightest Days' fast progressiv.
Leven´s Vocals sind oftmals etwas "drüber", aber wer sich auf die Theatralik und Melodramatik einlässt, wird mit tollen Songs wie dem grandiosen 'Siren´s Call' inklusive packendem Solo belohnt. Weitere Höhepunkte sind das majestätische, von Shaw dargebotene 'A Song Of Detestation', 'Little Sister', ein mit Violinen-, Orgel- und Pianoklängen aufwartendes Duett von Del Carmen und Leven, sowie das abschließende, schaurig-schöne 'At Nighttime'.
"Death On A Pale Horse" ist eine gelungene, epische Stunde mit schicken Melodien, schönen Harmonien und mehrstimmigen Gesangsarrangements irgendwo in der Schnittmenge aus Mercyful Fate, King Diamond, Candlemass und Tanz der Vampire.
Michael Gaspar vergibt 8,5 von 10 Punkten