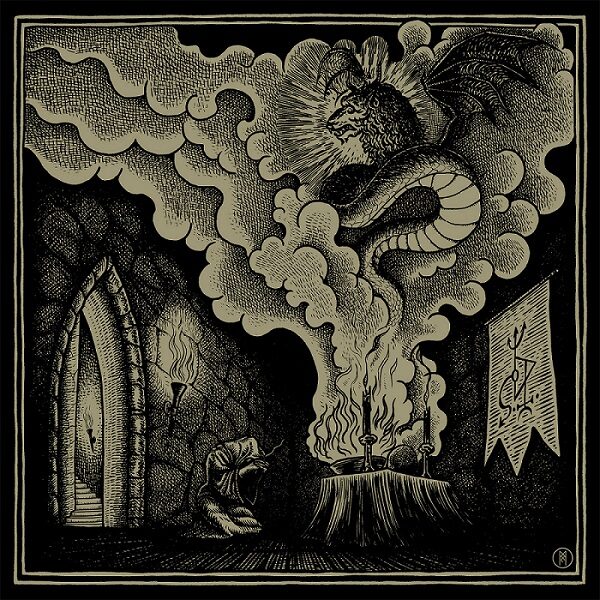 OFERMOD
Titel: OFERMODIAN LITANIES (EP)
Spieldauer: 27:39 Minuten
VÖ: 25. November 2022
Wenn man über schwedischen Black Metal berichtet, kommt man einigen bekannten Namen immer wieder vorbei. Dennoch schlummern aber unter der Oberfläche einige höchst interessante Truppen, die mit sehr viel Passion und Können aufwarten. OFERMOD aus Norrköping – wie die Black Metaller von Marduk im Übrigen – aktiv seit Mitte der 1990er Jahre, gehören zweifelsfrei zu dieser Kategorie an Bands.
Die vorliegende EP "Ofermodian Litanies" bringt uns fünf neue Tracks der Schweden zu Gehör. Interessanterweise höre ich hier Morbid Angel und Immortal zu ihren Mittneunziger Phasen heraus. Der Krächzgesang ist ebenso von Onkel Abbath beeinflusst. 'Litany of the Lascivious Lucifuga' untermauert da meine Meinung und ist mein Highlight der EP. Der Rest der Songs mag in Ordnung sein kommt aber nicht wirklich aus dem Quark. Das liegt zum Teil am doch gefälligen Songwriting aber auch am dumpfen und absolut flachen Sound. Nur manchmal schimmern packende Passagen wie in 'Chaos Reverberation' durch. Der Abschlusstrack 'Tiamtu' ist dann auch nochmal richtig vertrackt und mächtig böse und mit 'Litany…' stärkstes Songgut auf dem Mini-Album.
Fazit: Eine nicht unbedingt zwingende Veröffentlichung aber für Fans der Truppe sicherlich essenziell. Zwei überragende Tracks rechtfertigen aber hier eine Empfehlung zum Reinhören.
Ingo Holzhäuser vergibt 7,5 von 10 Punkten