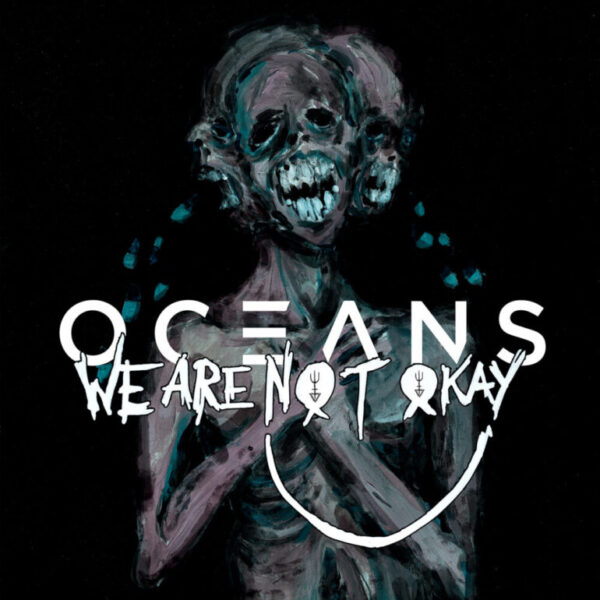 OCEANS
Titel: WE ARE NOT OKAY
Spieldauer: 16:10 Minuten
Nach dem Anfang 2020 erschienenen Longplay-Debüt "The Sun And The Cold" widmet die deutsch-österreichische Post-Death-Metal-Band OCEANS nun eine komplette EP einem extrem wichtigen Thema, welches besonders in diesen Tagen kaum überbewertet und nicht oft genug angesprochen werden kann. Gemeinsam mit dem Verein http://theoceaninyourmind.de/ der über Depressionen, Ängste und selbstverletzendes Verhalten aufklärt und Erkrankten und deren Angehörigen Erste Hilfe, Unterstützung und eine Stimme gibt, soll ein Zeichen gegen Einsamkeit und Stigmatisierung der Betroffenen gesetzt werden.
Der Titelsong 'We Are Not Okay' bewegt sich dabei zwischen aggressiven und wütenden Screams und auch enorm tiefe Growls kommen unterstützt von Andy Dörner (Caliban) zum Einsatz und drücken die Verzweiflung und tiefe Frustration der Betroffenen aus ("But I can't feel myself/I make a cut and I can breathe again"). 'Everyone I Love Is Broken' lässt es zunächst etwas ruhiger angehen und nimmt die Perspektive des mitleidenden, vermeintlich ohnmächtigen Angehörigen ein, während 'Voices' wieder härter zur Sache geht. Dieser pendelt zwischen Shouts, Screams mit eindringlichem Text über die krankhafte Selbstentfremdung ("I want to smash the glass/And pick up the shards/Cut the darkness/Out of your veins/Heal the pain") und einem fast poppigen, teilweise zweistimmigen Chorus ("All thesе voices in my head/Tell mе everything I do is wrong/Oh, I wish that I was dead/And all they do is sing along"). Die weiblichen Vocals werden dabei von der bezaubernden Lena Scissorhands (Infected Rain) beigesteuert. Das abschließende 'Shark Tooth' beginnt mit kinderliedartigen, leicht verzerrten Vocals und erinnert verstärkt durch Christoph Wieczorek (Annisokay) stark an Korn und Marylin Manson, bevor ein eingängiger Chorus die aufgestaute Spannung löst. Die Lyrics beschreiben, dass Unsicherheit und Zweifel der betroffenen Personen schier unendlich sind und bedienen sich dabei der biologischen Besonderheit von Haizähnen, die fortdauernd nachwachsen, geben aber auch Hoffnungsschimmer mit auf den Weg: "We fight the sickness/We rise to speak/We stand beside the weak".
Angesichts der pandemiebedingt angespannten Situation und aufgrund der Tatsache, dass geschätzt alle 56 Minuten ein Mensch in Deutschland Suizid begeht, ein enorm wichtiges Thema und ohnehin ein lobenswertes Engagement. Noch dazu, wenn dann auch noch vier so geniale Songs dabei herauskommen. Die Platte ist auf 200 Exemplare limitiert und wird nur über den Shop auf der Bandhomepage in einem Bundle mit entweder einem Band-Tube-Scarf oder einem Shirt erhältlich sein.
Michael Gaspar vergibt 9 von 10 Punkten