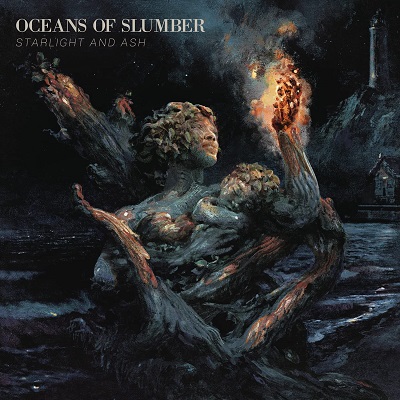 OCEANS OF SLUMBER
Titel: STARLIGHT AND ASH
Spieldauer: 49:54 Minuten
VÖ: 22. Juli 2022
Kennt ihr das, wenn ein Pferd vom Ausritt kommt, abgesattelt wird und dann den Kopf erst einmal genüsslich in den Hafereimer steckt … um genüsslich zu flatulenzieren? Endlich fällt die Anspannung ab, man kann sich "lösen" und endlich zur Ruhe kommen. Wer das so noch nicht kennen gelernt hat, hatte aber vielleicht schon ein ähnliches Erlebnis nach dem Essen. Was will ich eigentlich damit sagen? Natürlich geht es nicht darum, Darmgase entweichen zu lassen, sondern um den Prozess des "lösens" an sich. Manchmal muss man sich von seinen Vorstellungen und Erwartungen an sich lösen, Raum für neue Eindrücke schaffen und ermöglichen und den Reset-Knopf einfach mal wieder auf die Nullposition stellen. So wie im Fall des Albums "Starlight And Ash".
Natürlich dreht sich bei OCEANS OF SLUMBER mehr oder weniger alles um die Ausnahmestimme von Cammie Gilbert, die von der Atmosphäre und der Wucht der Musik quasi wie ein Phönix aus der Asche emporsteigt und über allem thront. Konzeptionell ist der Gesang das beherrschende Element, wobei die Stücke tragend und kraftvoll und mit einer schwermütigen Note arrangiert sind. Cammie kann sich förmlich leichtfüßig in den Vordergrund singen und der Verletzlichkeit der Songs den letzten, teils eindringlichen Schliff verpassen. Auf einen wuchtigen, teils doomig anmutenden Ausbruch wie bei 'Just A Day' muss man im Verlauf des Albums lange warten, wobei der Song in Teilen auch endlich mal etwas Fahrt reinbringt, die über die Spielzeit gesehen deutlich zu kurz zu kommen scheint.
Die Ballade 'House Of The Rising Sun' ist wie geschaffen für Cammie und für ihre Stimme die perfekte Wahl. Wobei damit auch die Krux offenbar wird: Ohne die Stimme von Cammie wäre es deutlich zu wenig. Es fehlen die Akzente der Musiker, die zum Ausdruck bringen, dass es ein Album einer Band ist und nicht nur die Rahmen-Instrumentierung für eine fantastische Sängerin. Zugegeben, die Growls habe ich nicht vermisst, so dass ich die Hoffnung habe, dass beim nächsten Album die Band wieder als Band agiert, wobei Cammie weiterhin so fantastisch sein darf.
Robert vergibt 7 von 10 Punkten