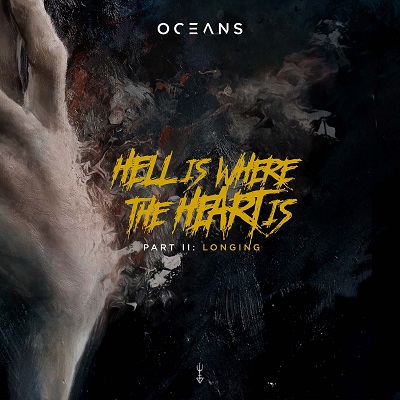 OCEANS
Titel: HELL IS WHERE THE HEART IS PART II: LONGING (EP)
Label: NUCLEAR BLAST RECORDS
Spieldauer: 13:20 Minuten
VÖ: 29. Juli 2022
Die deutsch-österreichische Post-Metal-/Metalcore-Truppe OCEANS setzt ihre EP-Reihe mit dem neuen "Hell Is Where The Heart Is Part II: Longing" Kurzplayer nahtlos und gewohnt qualitativ hochwertig fort.
Hatte der Vierer mit seiner "We Are Not Okay" EP (2021) einen ganzen Output dem Thema `Mental Health´ gewidmet und ging es in "Hell Is Where The Heart Is Part I: Love" um schmerzhafte Erfahrungen mit der Liebe, so dreht sich dieses Mal alles um menschliche Sehnsüchte ("Longing").
Wie die Vorgänger bedient man sich eines gesprochenen Intros (`Longing´), um zunächst in die Thematik einzuführen, auf das dann die drei brandneuen Tracks folgen.
`Home´ glänzt mit spannender Laut-Leise-Vielfalt, hoher Dynamik sowie einem eingängigen Chorus und beschäftigt sich mit dem Gefühl des Heimwehs. Das folgende `I Want To Be Whole Again´ drückt die ausweglose und wütende Suche nach Vervollständigung mit Hilfe von dominanten Drums, opulenten, fast progressiven Soundteppichen und verzweifelten Vocals aus.
`Living = Dying´ ist der energetische, aggressive Abschluss, der unumstößlich härteste Song des Silberlings und schlägt mit Energie, Hass und beinahe blackmetal-artigen Vocals und einem starken Refrain sowohl thematisch als auch musikalisch die Brücke zu den beiden Vorgängerscheiben.
Fazit: leider nur eine knappe Viertelstunde facettenreiche Härte, vielfältige Sounds und starke Lyrics in drei anspruchsvollen, komplexen, vielseitigen Songs.
Michael Gaspar vergibt 7,5 von 10 Punkten