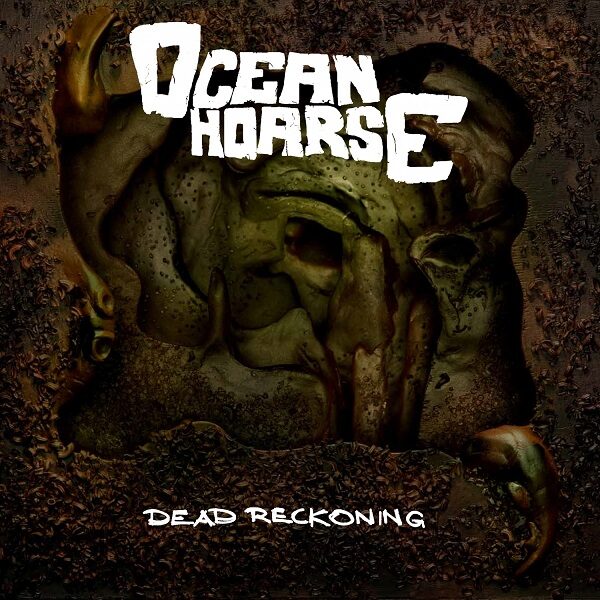 OCEANHOARSE
Titel: DEAD RECKONING
Label: NOBLE DEMON RECORDS
Spieldauer: 44:32 Minuten
Eine eigene Formel für traditionsorientierten und dennoch äußerst modernen Metal hat das finnische Quartett Oceanhoarse entwickelt und stellt diese nach der Live-CD "The Damage Is Done" (2020) nun erstmals in Form eines Studio-Albums vor. Dabei geht die Band auf "Dead Reckoning" immer live-orientiert zu Werk, legt nach eigener Aussage viel Wert auf Dynamik und Sing-Along-Momente und verzichtet bewusst auf jegliche Backing Tracks und Synthies.
In ihrem Sound zitiert und vermischt die Band die unterschiedlichsten Stile, Rhythmen und Geschwindigkeiten, fast immer sogar innerhalb eines Songs. OCEANHOARSE gehen rifforientiert wie Machine Head zur Sache, nehmen Anleihen im Grunge und bei melodischem Metal und klingen trotz, oder gerade wegen dieser explosiven Mischung, immer frisch und zeitgemäß.
'Locks' geht nach dem kurzen Intro 'Headfirst' gleich in die Vollen und mit seinen Screams und Gangshouts fast in eine Hardcore-Richtung. Auf 'Betrayed By Light' wimmelt es vor schweren Riffs und zahlreichen Breaks, aber auch Melodie und Eingängigkeit kommen nicht zu kurz. Der Anfang von 'One With The Gun' offenbart erstmals die Schwäche der vier Jungs aus Helsinki für Grunge á la Alice in Chains, die sie auch als einen ihrer Haupteinflüsse bezeichnen, bevor im kraftvollen Chorus wieder die eher HC-typischen Shouts und Sirenen zu hören sind.
'The Intruder' erinnert mich an modernen Sound wie ihn beispielsweise Five Finger Death Punch präsentieren, bevor 'Fight For Tomorrow' aggressive, fast thrashige Strophen mit einem punkig-poppigen Chorus und einem waghalsigen Solo kombiniert. Die Melodien auf 'From Hell To Oblivion' und anderen Tracks könnten auch von Avenged Sevenfold stammen, während 'REW' eine Art Post-Grunge mit modernen Elementen repräsentiert und das abschließende, grandiose 'The Damage' schon beinahe Metalcore ist.
Fazit: facetten- und abwechslungsreicher Silberling mit einem kraftstrotzenden, modernen Sound-Mix, der vor allem durch die fantastische Gesangs-Performance zusammengehalten wird und sich durch jede Menge gute Songs auszeichnet.
Michael Gaspar vergibt 8 von 10 Punkten