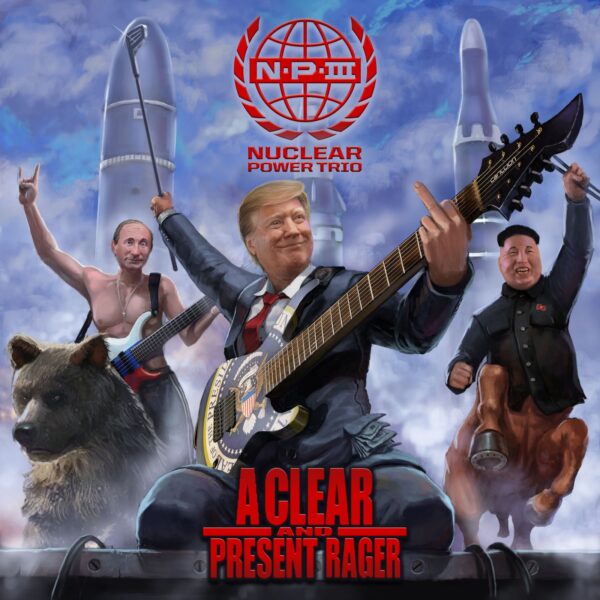 NUCLEAR POWER TRIO
Titel: A CLEAR AND PRESENT RAGER EP
Label: METAL BLADE / SONY
Spieldauer: 19:06 Minuten
Pünktlich zur US-Wahl veröffentlicht Donald Trump das von langer Hand geplante Instrumental-Projekt mit seinen beiden dicken Kumpels Vladimir Putin und Kim Jong-Un. Dafür trafen die drei Vorzeigedemokraten sich heimlich in Colorado mit Produzent Dave Otero, um die Öffentlichkeit rechtzeitig auf die Wahlen einstimmen zu können. Schon seit langer Zeit jammen die Herrschaften in unregelmäßigen Abständen miteinander. Neben Golfen gehört nämlich metallisch angerauter Fusion Jazz zu den Hobbies der drei Feingeister.
Schon der Titelsong zeigt die außergewöhnlichen Fähigkeiten, die Trump (Gitarre), Putin (Bass) und Jong-Un (Schlagzeug) dabei erworben haben. Und auch Witz beweisen sie: "Grab 'Em By The Pyongyang" oder "Ukraine In the Membrane" beispielsweise stehen für die sattsam bekannte humoristische Seite der für ihre ausgleichenden Naturen bekannten Streiter für Menschlichkeit und Frieden. Dabei lassen sie bis auf die Straßen in ihren jeweiligen Ländern wirklich nichts ab-, sorry: anbrennen – zahlreiche Taktwechsel, zwingende Grooves sowie zupackende Läufe und sanfte Gitarrenmelodien ("Mutually Assured Seduction") zeigen die individuelle Meisterschaft der Freunde.
Die Überraschung ist also geglückt. Das NUCLEAR POWER TRIO steht für inspirierte Musikalität als Ausdruck des Freigeists, der nur durch die Protagonisten wirklich in die Welt getragen werden kann. Durch Trump, Putin und Jong-Un ist die Welt zweifellos zu einem besseren Platz für uns alle geworden. Danke dafür. And now bugger off!
Patrick Müller vergibt 8 von 10 Punkten