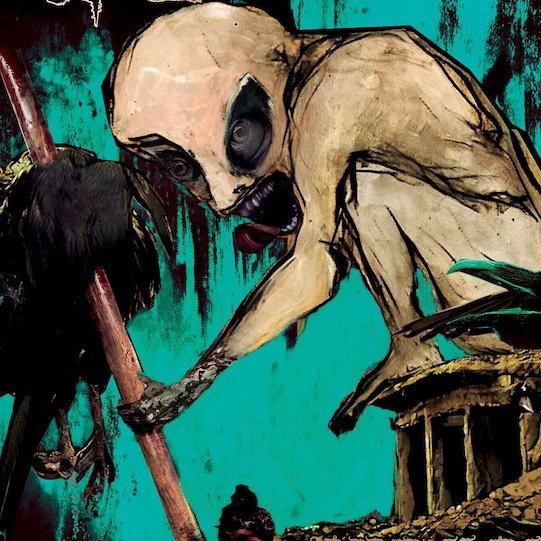 NUCLEAR
Titel: MURDER OF CROWS
Label: BLACK LODGE RECORDS
Spieldauer: 41:50 Minuten
Die Chilenen stehen für Aggro-Thrash, mit einem klaren Hang zu den Neunzigern und das ist auch gut so! Auch auf dem bereits sechsten Album beweisen NUCLEAR ordentliche Knüppel-Qualitäten, die gepaart mit ein paar Death Metal Elementen und von Hardcoreeinflüssen zeugenden Tracks, fast durchgängig Spaß machen. Dabei wirkt das Album noch heftiger, ja wütender als seine Vorgänger, die ja auch schon nicht ohne waren.
Nach dem obligatorischen Intro erklingt der Opener und Titeltrack 'Murder of Crows' mit einem schön aggressiven Schrei, der auf dem noch verhaltenen aber effektiven Riff bevor  der Song in Minute zwei in Thrash-Geschwindigkeit umschlägt und entfernte Erinnerungen an Exodus und Co. wachruft. Mit dem nachfolgenden Kopfkreisel-Song 'No Light After All' nimmt das Album dann volle Fahrt auf. Weiter geht's dann mal im langsamen Tempo. 'When Water Thickens Blood' hat etwas von einem verthrashten Black Sabbath Track. Allzu lange können sich die Nackenmuskeln aber nicht erholen, da das Death Metallige, leicht disharmonische 'Friendly Sociopath' wieder auf "gnadenlos" umschaltet. Das bereits ausgekoppelte 'Abusados' geht zeitweise, langsamer und kontrollierter zur Sache, bricht aber (natürlich) auch wieder in Hochgeschwindigkeit aus. Ein Fest für jeden Thrash-Fan, der ja meistens genau das will.
In den langsamen Passagen kommen manchmal Erinnerungen an frühe Sepultura auf, ohne aber der Gefahr zu erliegen als Kopie eingestuft zu werden. Das mag zu einem Teil auch an den nicht ganz akzentfreien Vocals liegen, die auf dem gesamten Album ein sehr hohes Aggressionslevel heraus schreien und perfekt zu den Kompositionen passen. Generell wirken die zehn Songs (plus Intro) ausgereift und mit einer eigenen Linie und Note, auch wenn NUCLEAR sicher keinen Preis für "Einzigartigkeit" erhalten werden. Den Ausklang macht schließlich der schwer unterhaltsame, Hardore-Punk Track 'Useless To Mankind', der einfach nur durchholzt, bis eine spanische Gitarre, ganz so wie am Anfang, den Kreis im Stile eines Outros, wieder schließt.
"Murder of Crows" bietet sicher keine große, originelle Kunst aber die 45 Minuten Spielzeit sind für jeden old-school Thrasher eine absolut lohnenswerte Zeit.
Sven Bernhardt vergibt 8 von 10 Punkten