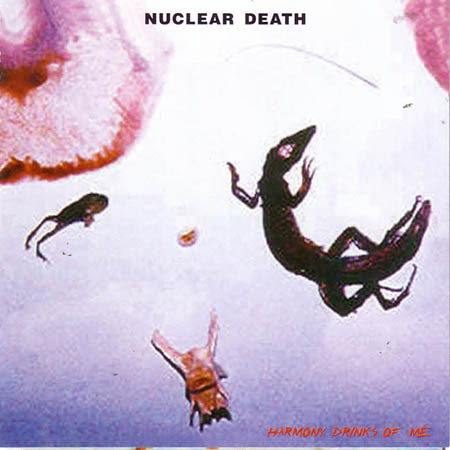 NUCLEAR DEATH
Titel: HARMONY DRINKS OF ME
Spieldauer: 46:41 Minuten
NUCLEAR DEATH sind so etwas wie eine der Ur-Death/Grind/Thrash Bands aus den Vereinigten Staaten. Mitte der 80er gegründet rödelten sie bis Anfang der 2000er im Untergrund durchs Gehölz. Sängerin/Bassistin Lori Bravo zählt zu den ersten und wenigen Frauen im harten Genre.
"Harmony drinks of me" ist das letzte Album der Band aus dem Jahr 2000. Es wurde seinerzeit nur als CD-R durch die selbst vertrieben. Im Gegensatz zu den wüsten Anfangswerken  ist die Scheibe streng genommen auch gar keine Metalplatte. Hier regiert als avantgardistische zu bezeichnende (Rock-)Musik, bestimmt durch die (cleane) starke Frauenstimme Lori Bravos.Die Tracks – wie gesagt nicht metallischer Natur – sind dennoch eingängig, düster und keinesfalls langweilig. Ich würde hier ein stark dem Gothic-Rock zuzuordnende Soundform ins Feld führen. Den ein oder anderen Verweis auf weibliche Musikerinnen wie Tori Amos oder auch Marianne Faithful sind sicherlich nicht von der Hand zu weisen.
Lori Bravo hat sich hier ein Nachhall mit NUCLEAR DEATH geschaffen, der würdig ist auch entsprechend veröffentlicht zu werden. Obgleich der ursprüngliche Bandsound ja schon mit den beiden Veröffentlichungen davor verlassen wurde, haben NUCEAR DEATH mit "Harmony Drinks of me" eine würdige und absolut eigenständige melancholisch-düstere Abschieds-Platte zelebriert.
Erhältlich über http://www.moribundcult.com
Ingo Holzhäuser vergibt keine Bewertung