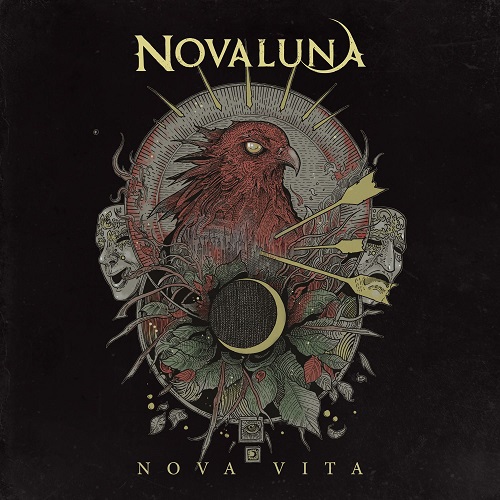 NOVA LUNA
Titel: NOVA VITA
Spieldauer: 42:02 Minuten
VÖ: 20. Mai 2022
Die italienische Metalband NOVA LUNA bezeichnet sich als inspiriert von Prog und Pop Metal (was auch immer das genau ist), Hardrock und Japan Pop. Klingt aber alles deutlich dramatischer, als es am Ende ist, wie das Debütalbum "Nova Vita" zeigt.
Die Songs des Fünfers erzählen Geschichten über Gefühle und Poesie, wobei jedes Stück für eine Emotion steht, beispielsweise Niedergeschlagenheit, Wut und Liebe. Als Gäste sind auf "Nova Vita" Marco Minnemann (The Artistocrats), Reb Beach (Whitesnake), Michele Luppi (Whitesnake) und Mistheria (Vivaldi Metal Project) vertreten.
Die ersten Songs der Scheibe sind jedoch stilistisch dann doch ein wenig überraschend. Handelt es sich doch sowohl bei `Addicted To Myself´ als auch `Over Machines´ um flotte Power Metal Kracher mit viel Energie, Punch und mitreißenden Refrains, während dazwischen der eingängige Titelsong eher die Popfans glücklich macht, aber auch ein durchaus opulentes Solo beinhaltet.
`World Of Truth´ ist dann eine emotionale, nur von Piano/Keyboard begleitete Ballade, bevor `Lost In The Sky´ pumpenden Hardrock mit einem erneut hymnischen Chorus und leicht frickeligen Elementen verbindet.
Die zweite Hälfte des Silberlings wird dann deutlich progressiver und die Stücke komplexer und noch abwechslungsreicher. Viel Dynamik, Rhythmuswechsel und anspruchsvolle Soli rechtfertigen neben den variablen Vocals dann auch die Symphony X und Dream Theater Referenzen. Moderne und poppige Einsprengsel lockern das Ganze zusätzlich auf.
Abschließend gibt es noch die in Grundzügen ebenfalls poppig-eingängige Pianoballade `Cause Of My Poetry´ sowie die akutische (Gitarren)Version des bereits bekannten `World Of Truth´.
Fazit: trotz oder gerade wegen der stilistischen Diversität ein kurzweiliges Album mit starken Songs, das vor allem Power/Prog Fans ohne Aversion gegen modern-poppige Vibes taugen dürfte.
Michael Gaspar vergibt 7,5 von 10 Punkten