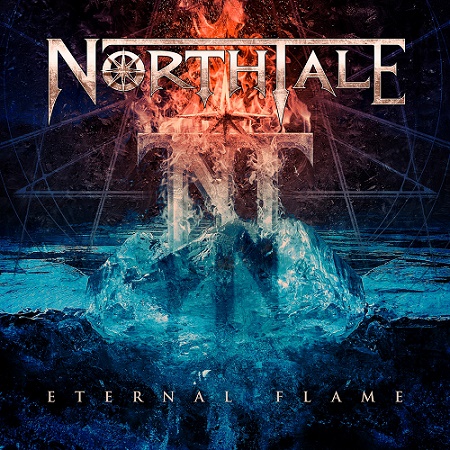 NORTHTALE
Titel: ETERNAL FLAME
Spieldauer: 64:59 Minuten
Mastermind hinter den Power Metallern NORTHTALE ist der brasilianisch-amerikanische Gitarrist Bill Hudson, der bereits auf die Zusammenarbeit mit Künstlern wie Doro, Jon Oliva´s Pain, U.D.O., TSO und David Vincent zurückblicken kann. Bei seinem Versuch, sein Soloprojekt NORTHTALE in eine wirkliche, beständige Band zu verwandeln, erlitt er einen Rückschlag, da er den auf dem Debüt "Welcome To Paradise" zu hörenden Sänger Christian Eriksson (Ex-Twilight Force) aufgrund von "kreativen Differenzen" durch seinen brasilianischen Landsmann Guilherme Hirose ersetzten musste.
Dieser übernimmt nun also auf dem Zweitling "Eternal Flame den Platz am Mikrofon und macht dort eine mehr als gute Figur. Der Opener 'Only Human' ist ein flotter, eingängiger Power-Metal-Kracher, während bei 'Wings Of Salvation' deutliche progressive Einschläge zu vernehmen sind.
Das folgende, gradlinige 'Future Calls' vereint dann erstmals straighte Power-Metal-Klänge mit recht üppigen Orchestrierungen. Zu hören sind hier Vocals von Kai Hansen (Helloween, Gamma Ray), dessen Sohn Tim zudem ein Gitarrensolo beisteuert.
Die folgenden 'Midnight Bells', 'Eternal Flame', 'In The Name Of God' und 'Ride The Storm' sind dann weitere schnelle Ohrwürmer im Stil von Rhapsody, Stratovarius, Angra oder Helloween zur "Keeper"-Ära.
Bei 'King Of Your Illusion', aber vor allem beim grandiosen, elfminütigen Opus 'Nature´s Revenge' geht es dann erneut mit schnellen Parts kombiniert mit wahnwitzigen Keyboard- und Gitarrenmelodien und -soli sowie üppigen Orchestrierungen zur Sache.
Mit 'Judas Be My Guide' (1992) wird obendrein noch ein energetisches, gelungenes Iron Maiden-Cover abgeliefert, bevor das instrumental-orchestral-bombastische "Outro" Ivy die hochklassige Platte beschließt.
Für Höchstnoten ist ""Eternal Flame" teilweise zu bepackt und unruhig und es fehlt noch ein wenig die pure NORTHTALE-Essenz. Doch die musikalische Qualität und die einzelnen Songs sind auch viel zu gut, um hier allzu schlecht abzuschneiden.
Michael Gaspar vergibt 8 von 10 Punkten