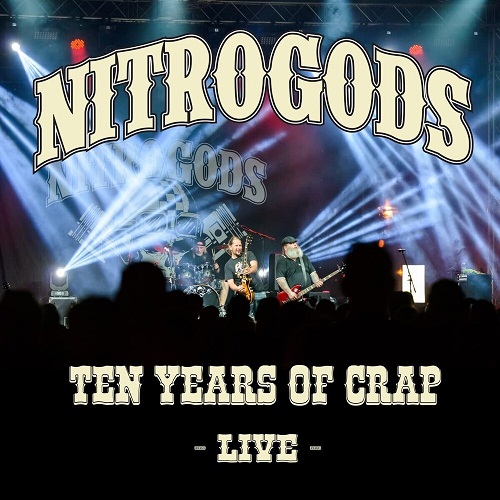 NITROGODS
Titel: 10 YEARS OF CRAP-LIVE
Spieldauer: 77:10 Minuten
VÖ: 27. Mai 2022
Ihr steht auf Bier, Schweiß und ehrlichen Rock'n Roll?
Dann seid ihr bei den NITROGODS schon mal generell richtig und bei diesem Album auf jeden Fall.
Gab es schon auf den bisherigen vier Studioalben "Nitrogods", "Rats And Rumours", "Roadkill Barbecue" und Rebel Dayz" ordentlich auf die Ohren, so wird das hier natürlich auf dem vorliegenden, in Berlin und Hannover aufgezeichneten, Live Album als eine Art Best of kulminiert.
Die Mucke der Jungs, die sich durch die bei vielen Songs ergebende Ähnlichkeit zu Motörhead am treffendsten als Motör Rock bezeichnen lässt, knallt hier lebensecht aus den Boxen. Allerdings kann man die NITROGODS auch nicht als reine Klone beteichnen, denn auch Einflüsse von Rose Tattoo, Thunderhead oder hartem Blues Rock sind zu erkennen. Egal wo die Einflüsse auch herkommen, bei Tracks wie 'Black Car Driving Man', 'Gasoline', 'Breaking Loose', 'A Los Muertos', 'Back Home', 'Damn Right', 'Rancid Rock', 'Wheelin'', 'Rats & Rumours' und den abschließenden 'Wasted In Berlin' und 'We'll Bring The House Down' geht der Daumen gnadenlos nach oben.
Ein authentisches, geiles Live Album….Motörhead und dirty Rock'n Roll Fans müssen hier unbedingt zugreifen!
Black Car Driving Man
Gasoline
At Least I'm Drunk
Breaking Loose
Boogeyman
A Los Muertos
Back Home
Rifle Down
Lipsynch Stars
Nothing But Trouble
Damn Right
Rancid Rock
Drum Solo
Wheelin'
Rats & Rumours
Take It To The Highway
Whiskey Wonderland
Wasted In Berlin
We'll Bring The House Down
Ludwig Lücker vergibt keine Bewertung