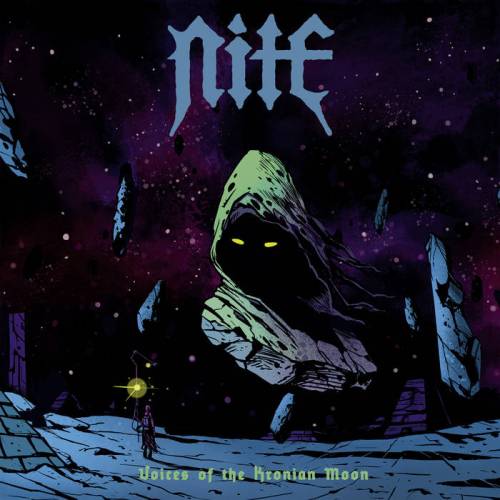 NITE
Titel: VOICES OF THE KRONIAN MOON
Spieldauer: 37:02 Minuten
VÖ: 25. März 2022
Die Band mit dem komischen Plattentitel kommt aus dem sonnigen Kalifornien und legt mit "Voices Of The Kronian Moon" ihr Zweitwerk vor.
NITE bezeichnen ihre Mucke durchaus als Black/Heavy Metal, was aber meines Erachtens nicht wirklich zutreffend ist. Die mit viel Hall für meinen Geschmack etwas zu weit in den Vordergrund gemischten Vocals sind zwar schwarz-metalisch eingefärbt, die Musik aber ganz klar dem traditionellen Metal zuzuordnen und weist noch ne Spur Goth Metal auf.
Und da haben NITE mit Tracks wie dem stampfenden, walzenden Opener 'Acheron' mit seinem melodischen Lead, dem Mid Tempo Banger 'Kronian Moon' mit seinen rockigen Vibes, dem pumpenden 'Heliopolis' und mit dem nach akustischen Beginn im treibenden Tempo und zwischenzeitlich relaxt rockenden 'Edge Of The Night' mehr als gute Kaufargumente. Zumal auch bei den restlichen vier ordentlich produzierten Tracks keiner abstinkt.
Textlich befassen die San Francisco Jungs mit Horror- und Okkult Themen und wer mit dem Vocals klar kommt, sollte NITE unbedingt mal checken, denn die Mucke ist wirklich gut.
Ludwig Lücker vergibt 8,5 von 10 Punkten