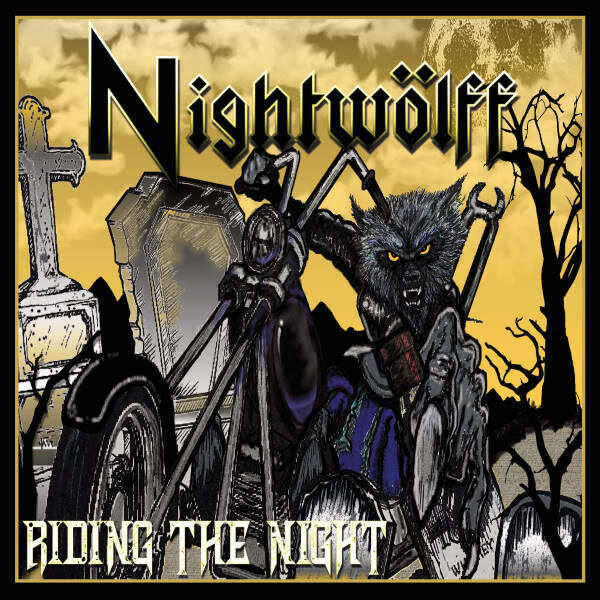 NIGHTWÖLFF
Titel: RIDING THE NIGHT
Label: WITCHES BREW RECORDS
Spieldauer: 43:39 Minuten
VÖ: 24. Februar 2023
"Riding The Night" ist das Debütalbum von NIGHTWÖLFF aus Oregon, die sich traditionellen 80er Metal mit Hardrock-Anleihen auf die Fahnen geschrieben haben. Erstes Lebenszeichen der 2019 formierten US-Band war die übrigens auch sehr hörenswerte 2021 digital veröffentlichte EP "The Whiskey Sessions".
Als mögliche Zielgruppen des Albums nennt das Label Fans von W.A.S.P., Krokus oder Accept, was allerdings nur einen sehr groben stilistischen Rahmen vorgibt. Es spricht gleich mal für eine gewisse Eigenständigkeit von NIGHTWÖLFF, dass man sie nicht wirklich mit einer bestimmten Band vergleichen kann. Deshalb am besten einfach mal selbst reinhören.
"Riding The Night' startet mit vier vergleichbar starken und abwechslungsreichen, meist im flotten Mid- bis Uptempo gehaltenen Songs, bevor mit der tollen Halbballade 'Still Waters' und dem kleinen Hit 'On The Hunt' meine persönlichen Highlights des Albums folgen.
Der anschließende Schmachtfetzen 'Lonesome Road' ist dann eine lupenreine Sleaze-Ballade mit dezentem Southern-Rock-Einschlag – klingt zwar recht gefällig, will mir aber irgendwie nicht ganz in den restlichen musikalischen Kontext passen. Kann man machen.
Den Abschluss von "Riding The Night" bilden das abwechslungsreiche, vom Riffing her etwas an alte Metallica erinnernde Instrumental 'Run With The Pack' sowie das zackige und bandnamengebende Krokus-Cover 'Night Wolf', bei dem NIGHTWÖLFF fast schon wie Stallion klingen.
Fazit: Gelungener Album-Einstand der US-Band, das aber auch noch genug Luft nach oben lässt. Die musikalisch und gesanglichen Voraussetzungen für noch etwas mehr Hitpotenzial sind definitiv da.
Joe Nollek vergibt 7,5 von 10 Punkten